Warm Up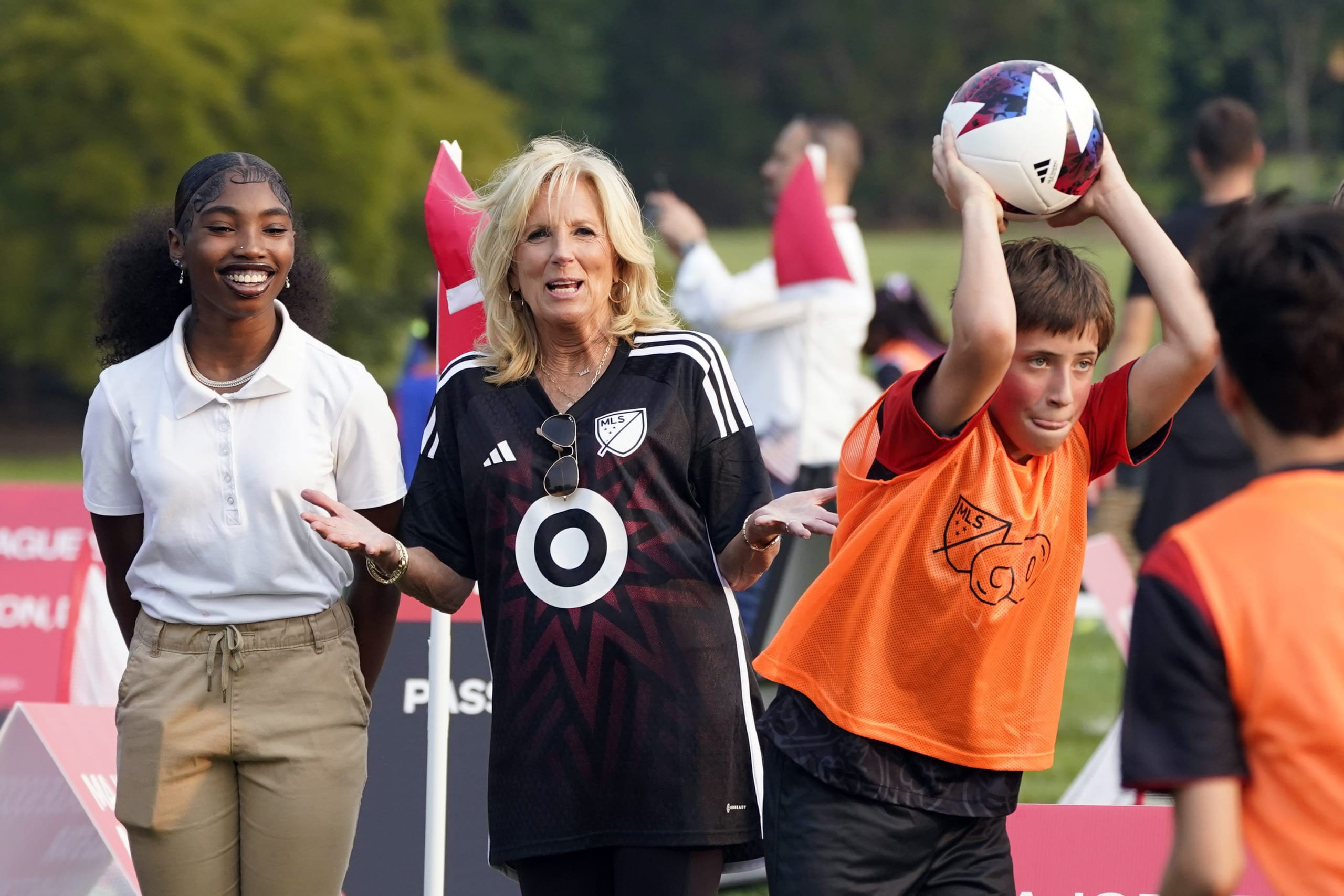 Helpful Words and Phrases
Listen and repeat. 聞いてリピートしましょう。
ex.

The players were sweaty after their practice.

a pickup game

その場にいる人と即席でチームを組んでするゲーム

ex.

The teams have enough players to play a pickup game of basketball.

ex.

Countries unite to fight and win against climate change.

ex.

It gave her a thrill to go to the amusement park.

ex.

With his complete dedication to the company, he worked there for over 25 years.
Article
Read the article below and answer your tutor's questions.記事を読んで講師からの質問に答えましょう。
Groups of sweaty children were very happy at the opportunity to play soccer with major league professionals at the White House. The children wore jerseys of their favorite Major League Soccer teams. They joined first lady Jill Biden and players from FC Cincinnati, DC United, Chicago Fire, and other teams for a youth soccer clinic on the White House South Lawn. They played pickup games of soccer until the early evening. The White House staff distributed water to the children and their parents.
The event was organized by the White House as part of Biden's efforts to highlight how sports unite us and support and empower young people. According to Biden, "Sport is the international language, from the thrill of the goal to the joy of the win."
The 16-year-old D.C. Parks and Recreation representative Nevaeh Burroughs said that soccer taught her the value of "dedication, hard work, and commitment." MLS all-stars attended the event and kicked balls around with the kids. The kids asked them questions. President Biden arrived later in the event to talk to the professional players.
This material was based on an article by The Associated Press.
Discussion
Choose a topic and discuss the questions with your tutor.トピックを選び、質問に基づいて議論しましょう。
Biden wants to highlight how sports unite, support, and empower young people. Why do you think Biden wants to highlight how sports affect young people? Discuss.

What do you think are the benefits of a youth soccer clinic? Discuss.

How do you think the children felt playing soccer at the White House with major league players? Discuss.
What do you think about the professional players who joined the youth soccer clinic (ex. they're cool)? Discuss.

Who is a professional sports player that you really admire? Discuss.

Why do you think some fans like to wear jerseys of their favorite players? Discuss.
Feedback
PERSONALIZED FEEDBACK
RANGE
表現の幅
語彙をどの程度使えるか
COHERENCE
一貫性
論理的な話し方ができるかどうか
PHONOLOGY
音韻
発音が相手にとって
聞き取りやすいか