Warm Up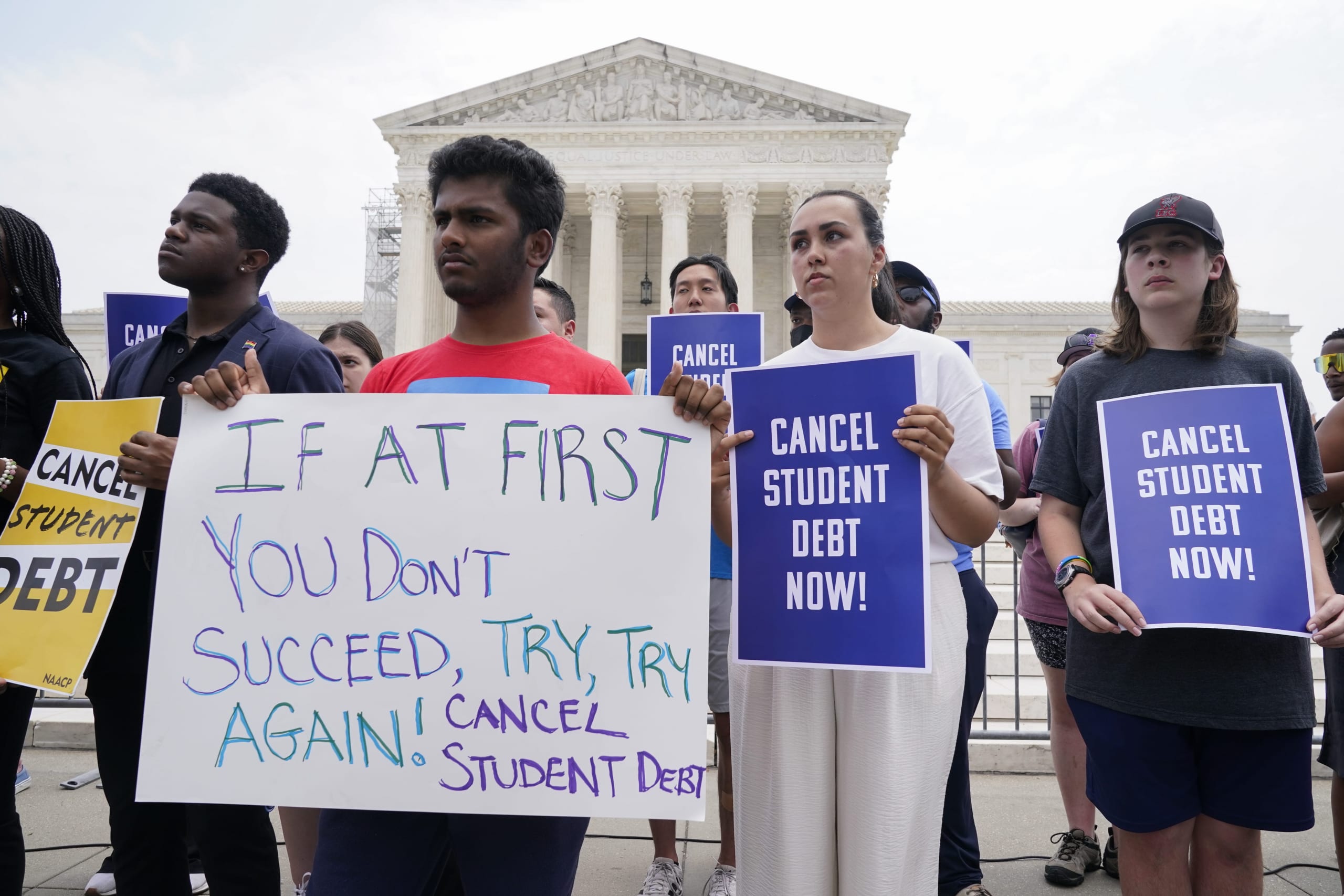 Helpful Words and Phrases
Listen and repeat. 聞いてリピートしましょう。
ex.

He apologized to end the dispute with his brother.

ex.

She is a recipient of an acting award.

ex.

Countries are sending relief to war victims.

ex.

He is eligible to join the advanced program because he finished his basic training.

ex.

He condemned the illegal acts of his staff.
Article
Read the article below and answer your tutor's questions.記事を読んで講師からの質問に答えましょう。
The U.S. Supreme Court rejected President Biden's $400 billion (about ¥55.5 trillion) plan to cancel or decrease the payments on government student loans. The justices said that the plan is costly and the administration needs Congress' approval. The court also said that Biden overstepped his authority with this plan. Biden accused opposition leaders of starting the dispute that resulted in the Supreme Court decision.
The program would have canceled $10,000 (more than ¥1.3 million) in student loan debt. It would have also removed an additional $10,000 from Pell Grant recipients. According to the administration, 43 million would have been eligible for the cancelation program and 26 million people had requested relief. But because of the Supreme Court decision, loan repayments will restart in October.
Supporters of this program condemned the Supreme Court decision. They asked Biden to find another way to fulfill his promise to reduce debt. Biden promised to find a solution to student debt through the Higher Education Act. He said it's the best way to give as many borrowers as possible debt relief. He also plans to have a program that would help borrowers who can't make their payments on time.
This material was based on an article by The Associated Press.
Discussion
Choose a topic and discuss the questions with your tutor.トピックを選び、質問に基づいて議論しましょう。
College/University Education
In your opinion, is college/university education in your country expensive? Why do you think so? Discuss.

In your opinion, should the national government give free college/university education to eligible students? Why or why not? Discuss.

Imagine that you are eligible to get free college/university education from the government. What would you study? Why? Discuss.
Biden's plan to cancel or decrease student loan debts is worth $400 billion. Why do you think he is pushing for this? Discuss.

In the U.S. over 43 million people have an average of more than $37,000 student loan debt. Do you think their debt should be totally canceled? Why or why not? Discuss.

Biden also promised to help borrowers who can't pay their student loan debt on time. How do you think Biden can help them (ex. cancel late payment fees)? Discuss.
Feedback
PERSONALIZED FEEDBACK
RANGE
表現の幅
語彙をどの程度使えるか
COHERENCE
一貫性
論理的な話し方ができるかどうか
PHONOLOGY
音韻
発音が相手にとって
聞き取りやすいか