Warm Up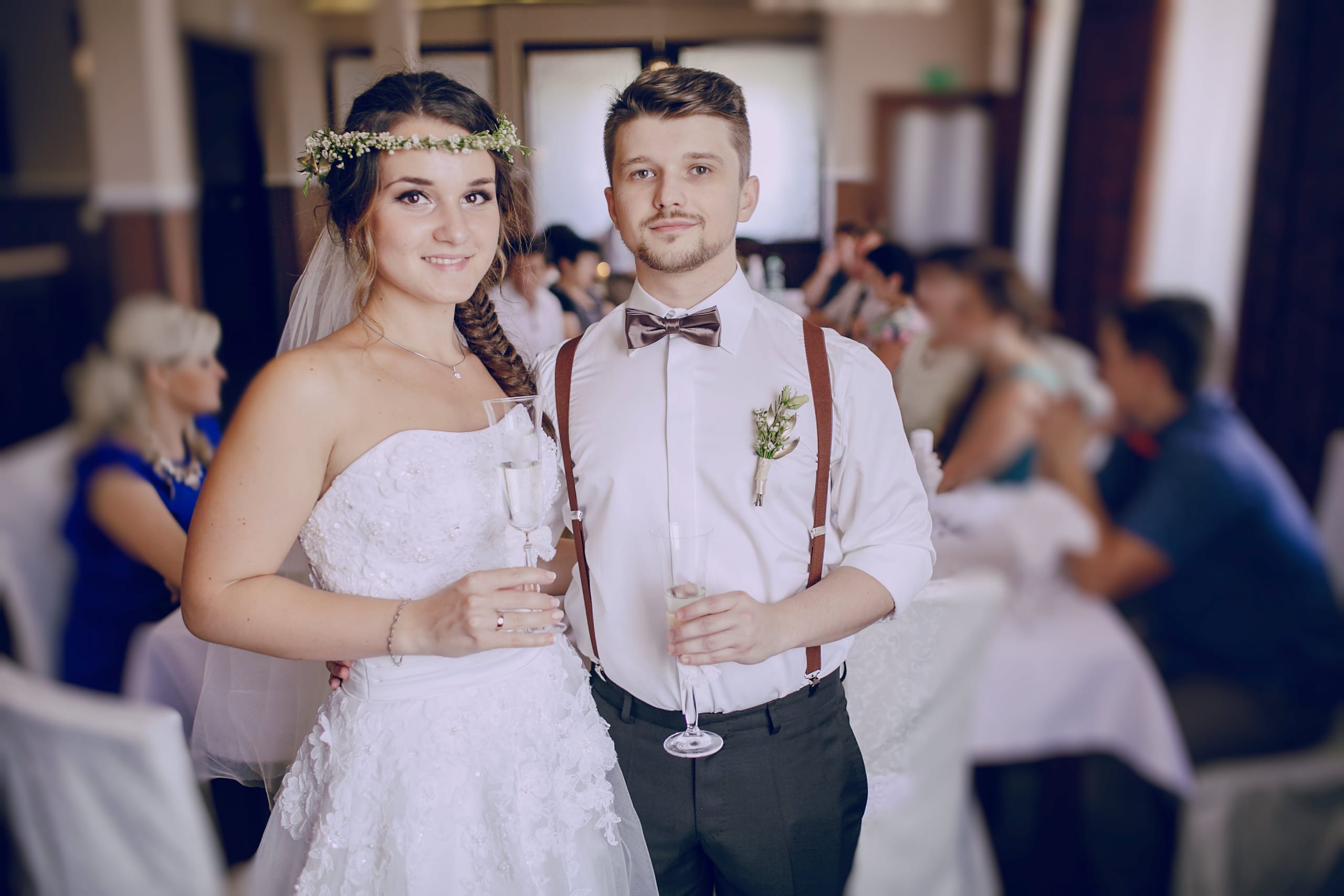 Helpful Words and Phrases
Listen and repeat. 聞いてリピートしましょう。
thanks to (something/someone)

(何か、誰か)のおかげで

ex.

Thanks to help from my parents, we were able to buy our first house.

vanish

突然消える

ex.

The magician got in the box and then vanished!

a reception

披露宴

ex.

We've decided to have our wedding ceremony at a church and the reception at a local restaurant.

pose as (something/someone)

(何か、誰か)のふりをする、になりすます

ex.

Wow, you can pay people to pose as your boyfriend or girlfriend at family events.

sentence to (something)

(何かの)刑を宣告する

ex.

The man was sentenced to three months in jail for attacking his neighbor.
Article
Read the article below and answer your tutor's questions.記事を読んで講師からの質問に答えましょう。
Thanks to help from their community, a British couple's special day was saved. Jason and Nicky Asquith-Thorpe said that they had paid their wedding planner, Dana Twidale, almost £3,000 (about ¥450,000) for an event space, tables, chairs, and food for 100 guests. Two days before the wedding, though, they discovered that Twidale had canceled all their reservations and vanished with their money.
A friend of the couple called a local radio station to share their story. A local events planning company provided free decorations, and Nicky's coworkers paid for a DJ. The local soccer club also offered its bar for the reception. Jason said they were very thankful for everyone's help, and Nicky added that the experience was stressful but amazing.
Twidale stole more than £15,000 (about ¥2.3 million) from 24 couples by posing as a wedding planner. She used the money to gamble and take a one-month vacation to Spain. Twidale was arrested when she returned to the UK and sentenced to five years in jail. Another couple that she stole money from described her as "heartless."
Discussion
Choose a topic and discuss the questions with your tutor.トピックを選び、質問に基づいて議論しましょう。
Twidale was sentenced to five years in jail. Do you think that's a fair punishment for her scam? Why or why not? Discuss.

Some people feel that Twidale's "heartless" scam was worse than other scams because she ruined people's special days. Do you agree? Why or why not? Discuss.

In your opinion, why do some people scam others (ex. they really need money, they think that they can escape)? Discuss.
Imagine that your wedding planner canceled all your reservations and vanished with your money two days before the wedding. What will you do (ex. cancel the wedding, ask friends for help)? Why? Discuss.

In your opinion, who should pay for weddings (ex. the bride and groom, the guests)? Why? Discuss.

Which do you think are better, big weddings or small weddings? Why? Discuss.
Feedback
PERSONALIZED FEEDBACK
RANGE
表現の幅
語彙をどの程度使えるか
COHERENCE
一貫性
論理的な話し方ができるかどうか
PHONOLOGY
音韻
発音が相手にとって
聞き取りやすいか