INTRODUCE
Although karaoke started in Japan, it has spread all over the world in different forms. It's good to know how to explain to your foreign friends what authentic Japanese-style karaoke is like!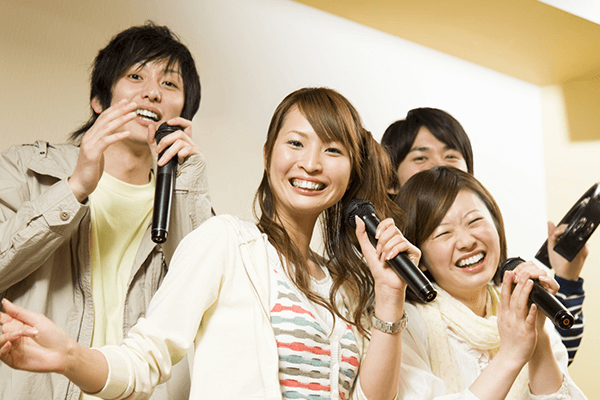 PRESENT
STEP A EXPRESSIONS
Go over the expressions with your tutor and choose T for true or F for false.
1. To sing/dance/cry one's heart out means to sing/dance/cry very enthusiastically or intensely.

She loves to sing her heart out when she's alone at home.

Q: I've never danced my heart out. ( T / F )

2. When someone goes wild, it means that he/she behaves in a very excited or uncontrolled manner.

 

The fans went wild when the band's vocalist came on stage.

Q: My friends and I go wild at karaoke. ( T / F )

3. When someone sings off-key, it means that he/she does not hit the right notes.

 

It hurt my ears when I heard Eddie sing off-key.

Q: I have friends who always sing off-key. ( T / F )
STEP B PRONUNCIATION
When a word that ends with s comes before a word that starts with y, the /s/ and /y/ sounds often combine to form /sh/.
Phrase
Example

dance your

/ dan-shuhr /

You should go to the party and / dan-shuhr / heart out.
UNDERSTAND
SPEAKING
Catherine is trying to comfort Saori, who got some really bad news from her husband.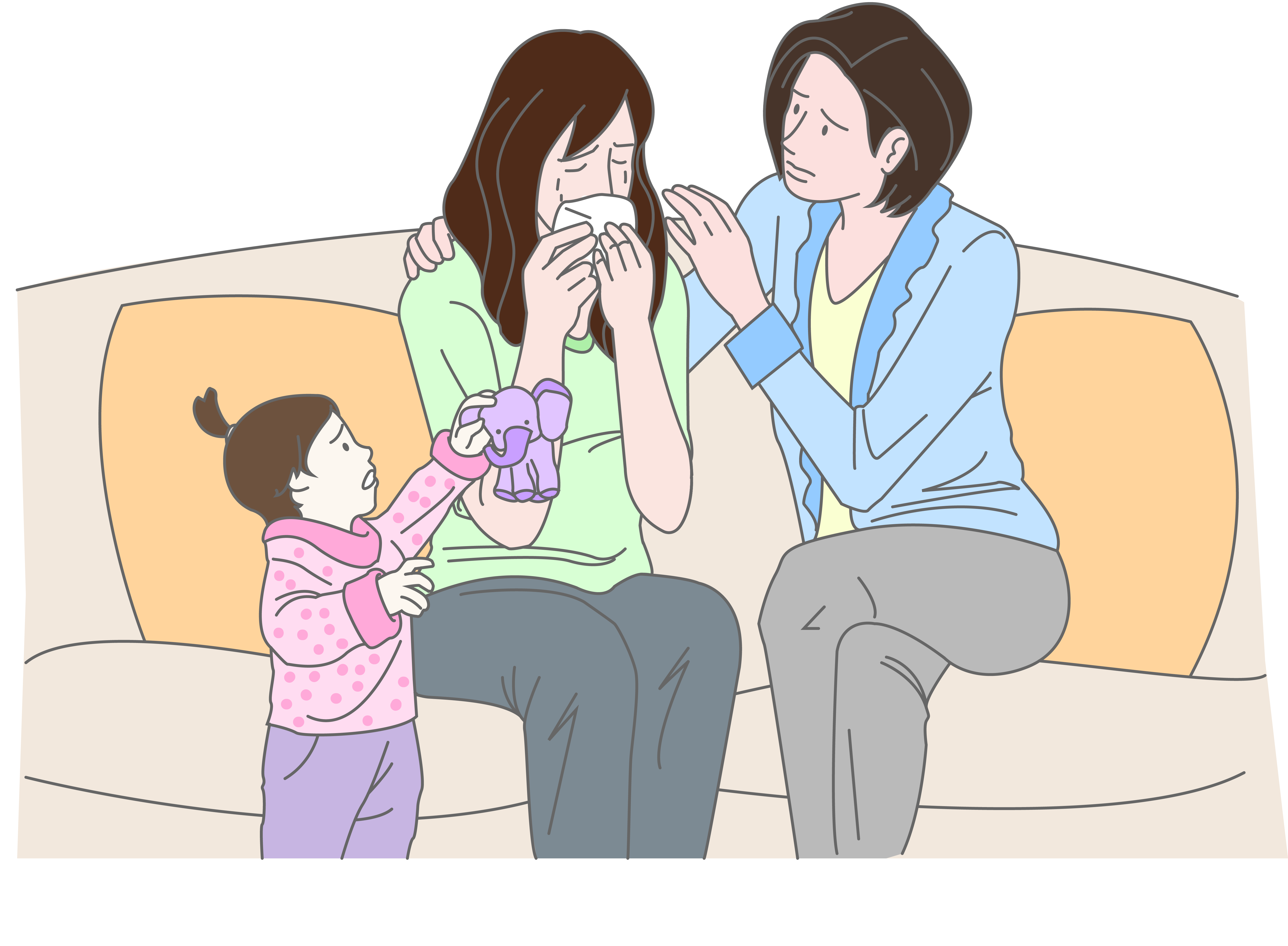 Saori:

(sobs) Naoki just broke the news to me last night—he's going to be transferred to Fukuoka next month!

Catherine:

What? Does this mean you're all moving to Fukuoka?

Saori:

That's what we argued about. He said we should start preparing to move there as soon as possible, but I told him we can't go with him.

Catherine:

(gasps) Why not?

Saori:

Well, Aoi-chan is going to start preschool soon. We were lucky to get her in one of the best preschools in Tokyo. If we move to Fukuoka, she'll be put on a waiting list again. I doubt she'd be able to start until next year!

Catherine:

What did Naoki say?

Saori:

He really wanted us to all stay together. I understand how he feels, but I told him that we need to put Aoi-chan first. In the end, he agreed to move to Fukuoka alone and come back to Tokyo one weekend a month or so.

Catherine:

Wow, that's really tough… (sighs) Hey, I have an idea… Let's go to karaoke.

Saori:

What? No way! I'm not in the mood to sing.

Catherine:

Saori, it's the perfect time for karaoke! You can sing your heart out. That's the best way to release stress! You can go wild and sing or dance to any song you want. Besides, no one will hear you but Aoi-chan and me, so you don't have to worry about being off-key.

Saori:

Hey! (laughs) You're the one who's always off-key!
TRIVIA
Many words like karaoke originally came from Japanese but are now in English dictionaries. The meaning of these words remains more or less the same, but the pronunciation is often very different from the original Japanese. Here are some examples:
karaoke [carry-OH-key]
sumo [SOO-moh]
emoji [ih-MOH-jee]
karate [kuh-RAH-tee] (or in American English: [kuh-RAH-dee])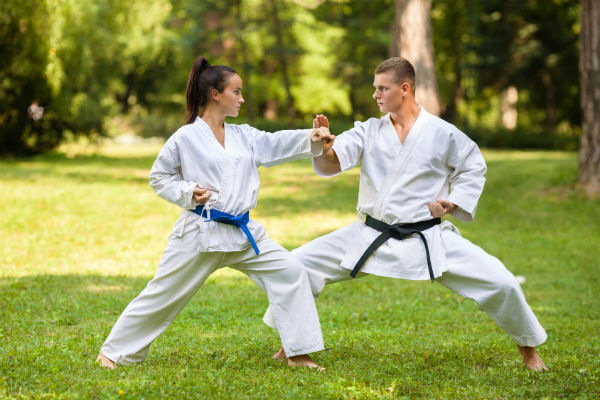 PRACTICE
STEP A EXERCISE
Rephrase the sentences using the expressions in the box. Some expressions may be used more than once, and the form of some expressions may need to be changed.
go wild
sing/dance/cry one's heart out
off-key
She cried so hard when her boyfriend broke up with her.
Everyone got very excited when the DJ played that song.
His friends laughed at him because he couldn't hit the right notes.
Little kids love to dance with all their energy when they hear a song they like.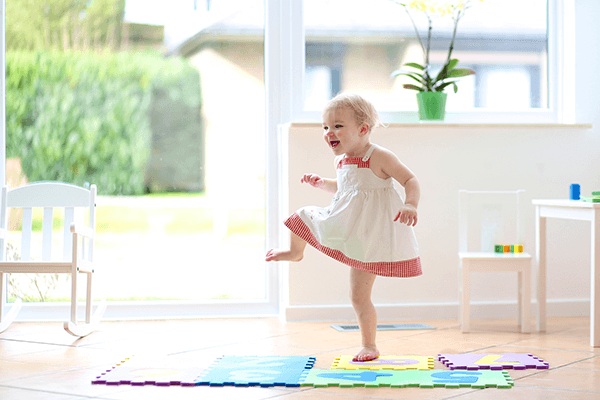 STEP B EXERCISE
Complete the speech using your own information.
I (often / sometimes / rarely) go to karaoke. I think that it's _____ to sing your heart out. I usually go (alone / with _____) because I feel like going wild in front of other people is _____. My favorite song to sing at karaoke is _____. I think I sound great when I sing it! I'm a little off-key when I sing _____, though, so I rarely choose to do that song.
CHALLENGE
Challenge 1
It's your foreign friend's first time to visit Japan. You want to invite him/her to karaoke. Tell your friend about Japanese karaoke and convince him/her to go.
Today's Expressions
sing/dance/cry one's heart out
go wild
off-key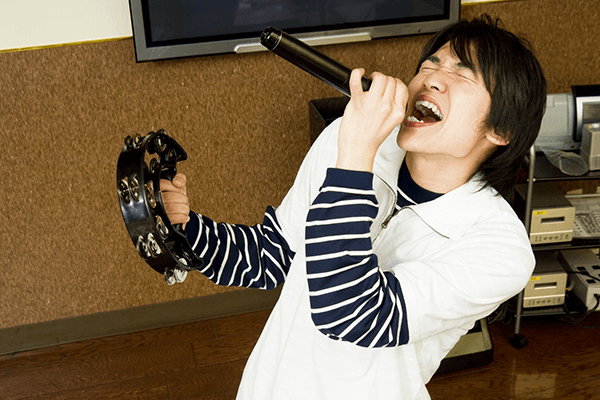 Challenge 2

If Time
Allows
1

KARAOKE

2

BEING OFF-KEY

3

SINGING

Why do you think karaoke is so popular in Japan?
For you, what's the best thing about karaoke?
What's the worst thing about karaoke?
What do you know about karaoke in other countries?

How do you feel when someone sings off-key?
What would you say to a friend who always sang off-key?
What do you think of famous musicians who sing off-key during live performances?
How can people who sing off-key learn how to sing better?

Are you a good singer?
What kind of songs do you prefer to sing (ex. enka, pop)?
What kind of songs do you not like to sing?
Do you feel comfortable singing in front of other people?
FEEDBACK
I can talk about karaoke.
LESSON GOAL ACHIEVEMENT
4


Very Good

Could complete the task with ease

3


Good

Could complete the task with some clarifications

2


Fair

Could complete the task with additional instructions

1


Poor

Could somehow complete the task with difficulty
PERSONALIZED FEEDBACK
RANGE
the ability to use a wide variety of vocabulary
ACCURACY
the ability to speak correctly
FLUENCY
the ability to speak smoothly without pauses or fillers
COHERENCE
the ability to speak logically and at length