INTRODUCE
As couples begin a new life together, they start facing a lot of important decisions—including how to divide household chores between the two of them!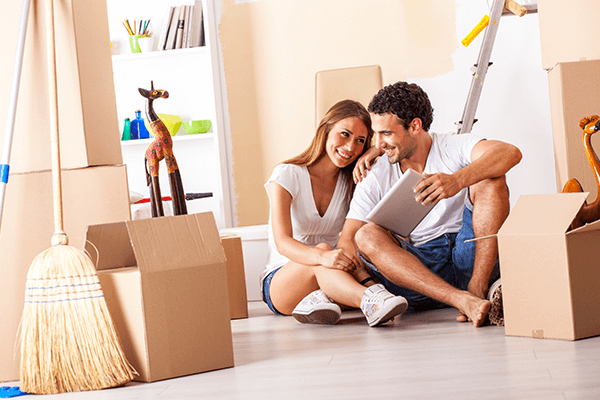 PRESENT
STEP A EXPRESSIONS
I. Go over the expressions with your tutor.
1. To split the chores means to divide housework between the people living in a house.

At home, we split the chores equally to teach our son to be responsible.

2. A pigsty is a place where pigs live. If you call a place a pigsty, it means it's very dirty and disorganized.

My mom would get mad if she saw my apartment right now. It's a pigsty!

3. If a chore or task falls on someone, it means that they're responsible for it.

The task of washing the dishes after dinner falls on my brother.

II. How are household chores divided at your home? Explain using the expressions above.
STEP B PRONUNCIATION
When one word ends in t and the next word starts with a consonant sound, the /t/ is often dropped.
Phrase
Example

split the chores

/ spli-thuh chawrz /

We can't / spli-thuh chawrz / equally.
UNDERSTAND
SPEAKING
Saori and Catherine are looking through magazines and wedding brochures.
Catherine:

(sighs) Planning a wedding is so stressful! How did you and Naoki do it?

Saori:

Well, we tried to be equally involved. But since he was busy even on weekends, the wedding preparations ended up falling on me, mostly.

Catherine:

Same story with Jun. He can't help much because of his job.

Saori:

But you're also working full-time!

Catherine:

That's true. But he always gets home so late, and he's usually too tired to think about things like the venue, the cake, the guests…

Saori:

Does that mean you do all the chores too?

Catherine:

No, we split the chores fifty-fifty. When we moved in together, we agreed to share everything – money, housework, etc…

Saori:

That's great! As for Naoki, well, you know how hardworking he is. And since I'm a stay-at-home mom now, I do 99% of the chores.

Catherine:

Are you okay with that? I remember how dirty your room used to be when you lived with your parents! (laughs)

Saori:

Yeah! I actually enjoy keeping the house from becoming a pigsty, and Aoi-chan likes to help. She has a toy vacuum cleaner. (laughs) But honestly, sometimes I think about going back to work… Maybe when Aoi-chan's a bit older…
TRIVIA
According to a 2014 survey, Japanese men do the least amount of household chores in the world. It was found that in Japan, most household chores fall on women, while their husbands only do one and a half hours of chores daily. On the other hand, Norwegian men do the most amount of housework in the world, putting in three hours of housework each day.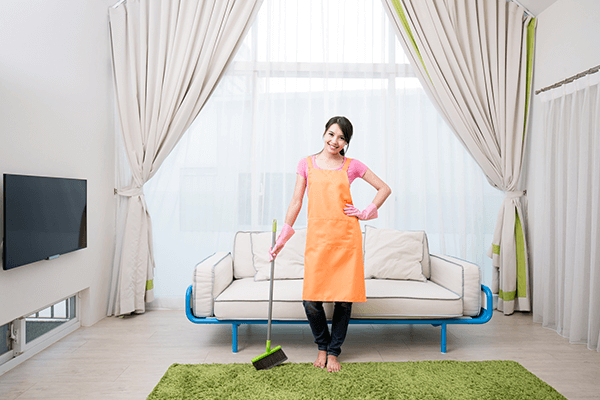 PRACTICE
STEP A EXERCISE
Rephrase the sentences using the expressions in the box. The form of some expressions may need to be changed.
split the chores
a pigsty
fall on someone
I do half the chores, and my sister does the other half.
Please don't go in the kitchen. It's a mess!
My mom and I are the ones responsible for doing the laundry.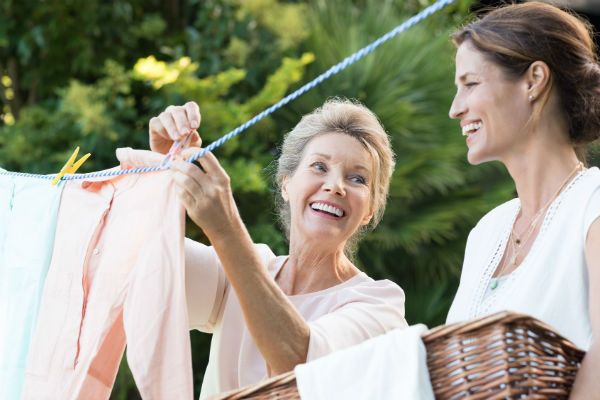 STEP B EXERCISE
Make sentences using the pictures, words in parentheses, and the expressions in the box. Some expressions may be used more than once, and the form of some expressions may need to be changed.
split the chores
a pigsty
fall on someone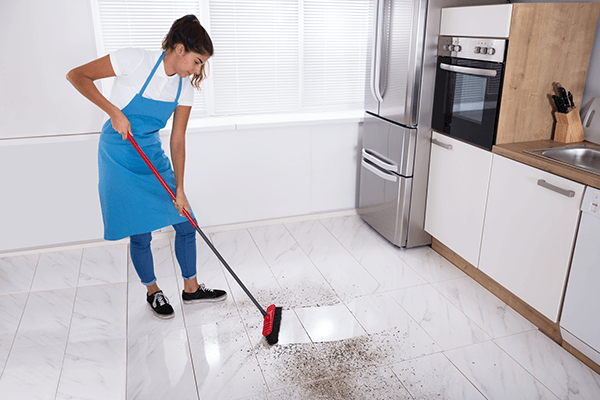 ex. (sweeping the floor / Jen )
→ Sweeping the floor falls on Jen.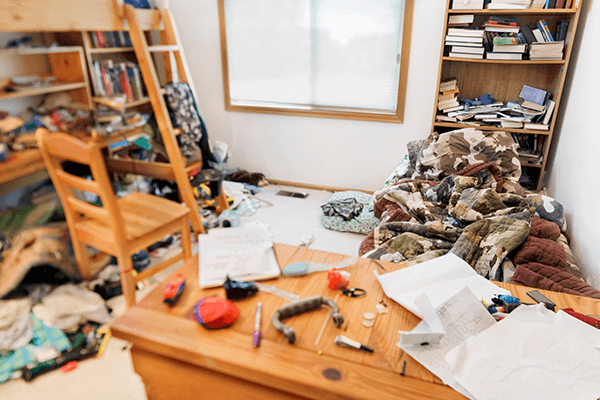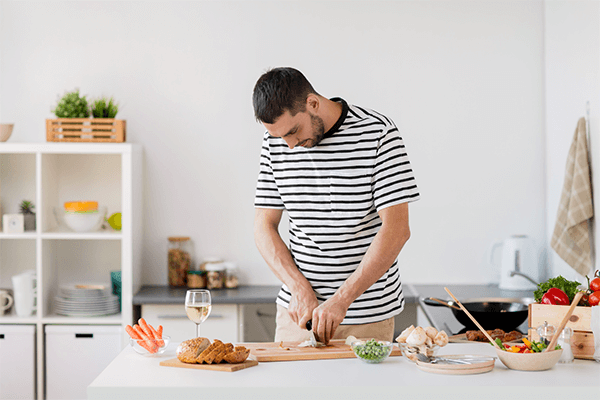 2. (preparing dinner / David)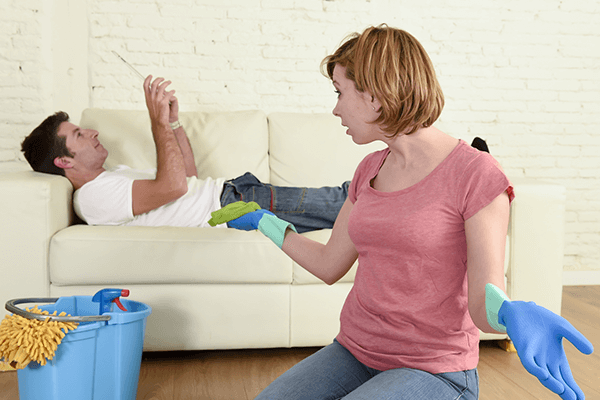 3. (Max and Molly / equally)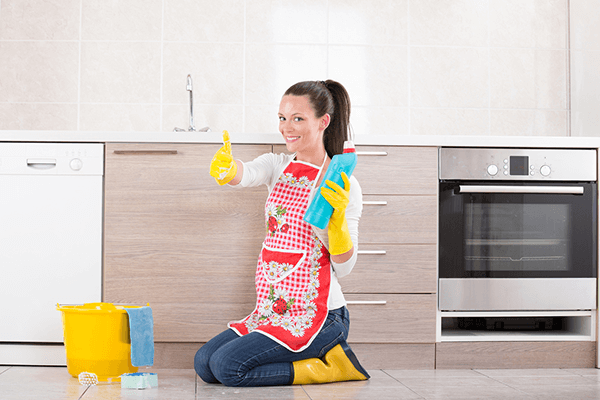 4. (Haley / cleans every day)
CHALLENGE
Challenge 1
Your foreign friend is moving into a share house. It's his/her first time living with people who aren't family, so he's/she's not sure how to divide the housework. Give your friend some advice.
Today's Expressions
split the chores
a pigsty
fall on someone
Challenge 2

If Time
Allows
1

HOUSEHOLD CHORES

2

KEEPING YOUR HOME CLEAN

3

BALANCING WORK AND CHORES

Which household chores do you do daily? Weekly? Monthly?
Do you have a favorite chore?
What chore do you like the least?
Do you think splitting the household chores among all family members is beneficial?

Do you clean on a regular basis?
Which part of your home is the hardest to clean?
Which part of your home do you think is the cleanest?
When it comes to cleanliness, are you strict with people who visit or stay at your home?

3

BALANCING WORK AND CHORES

Do you find it hard to balance work and household chores?
What do you do to balance working and doing chores?
What chores are the easiest to do even if you have too much work?
What chores do you usually not do when you're too busy with work?
FEEDBACK
I can talk about dividing household chores.
LESSON GOAL ACHIEVEMENT
4


Very Good

Could complete the task with ease

3


Good

Could complete the task with some clarifications

2


Fair

Could complete the task with additional instructions

1


Poor

Could somehow complete the task with difficulty
PERSONALIZED FEEDBACK
RANGE
the ability to use a wide variety of vocabulary
ACCURACY
the ability to speak correctly
FLUENCY
the ability to speak smoothly without pauses or fillers
INTERACTION
the ability to manage a conversation