INTRODUCE
Talking about the latest happenings on a reality TV show is a great conversation starter with your friends.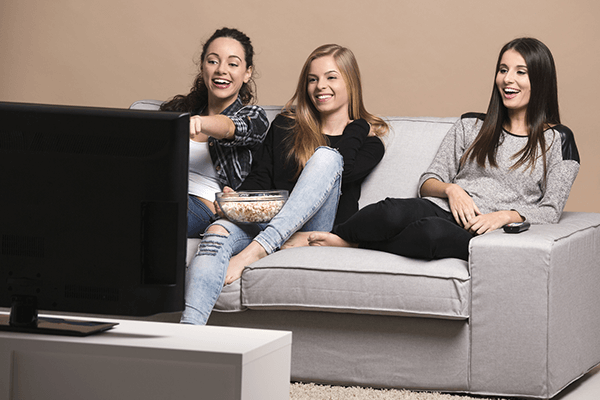 PRESENT
STEP A EXPRESSIONS
I. Go over the expressions with your tutor.
1. In show business, the term behind the scenes is used to refer to things that happen off-camera and are not shown to the public.

Allison and Tucker seem to get along on the show, but they actually argue behind the scenes all the time.

2. Something is unscripted when it's said or done without following a script.

The actress gave honest and unscripted answers during the interview.

3. To make someone out to be something means to show a person as something that he/she is not.

The show's producer made Aaron out to be a nice person, but actually, he was a huge jerk to everyone on the set.

II. What TV show do you like to watch recently? Talk about it using the expressions above.
STEP B PRONUNCIATION
When the end of one word and the beginning of the next word are the same consonant, the two sounds are often merged.
Phrase
Example

make him out to be

/ meyk him ou-tuh bee /

I hope they don't / meyk him ou-tuh bee / a bad person.
UNDERSTAND
SPEAKING
Toru is chatting with his coworkers in the LA office.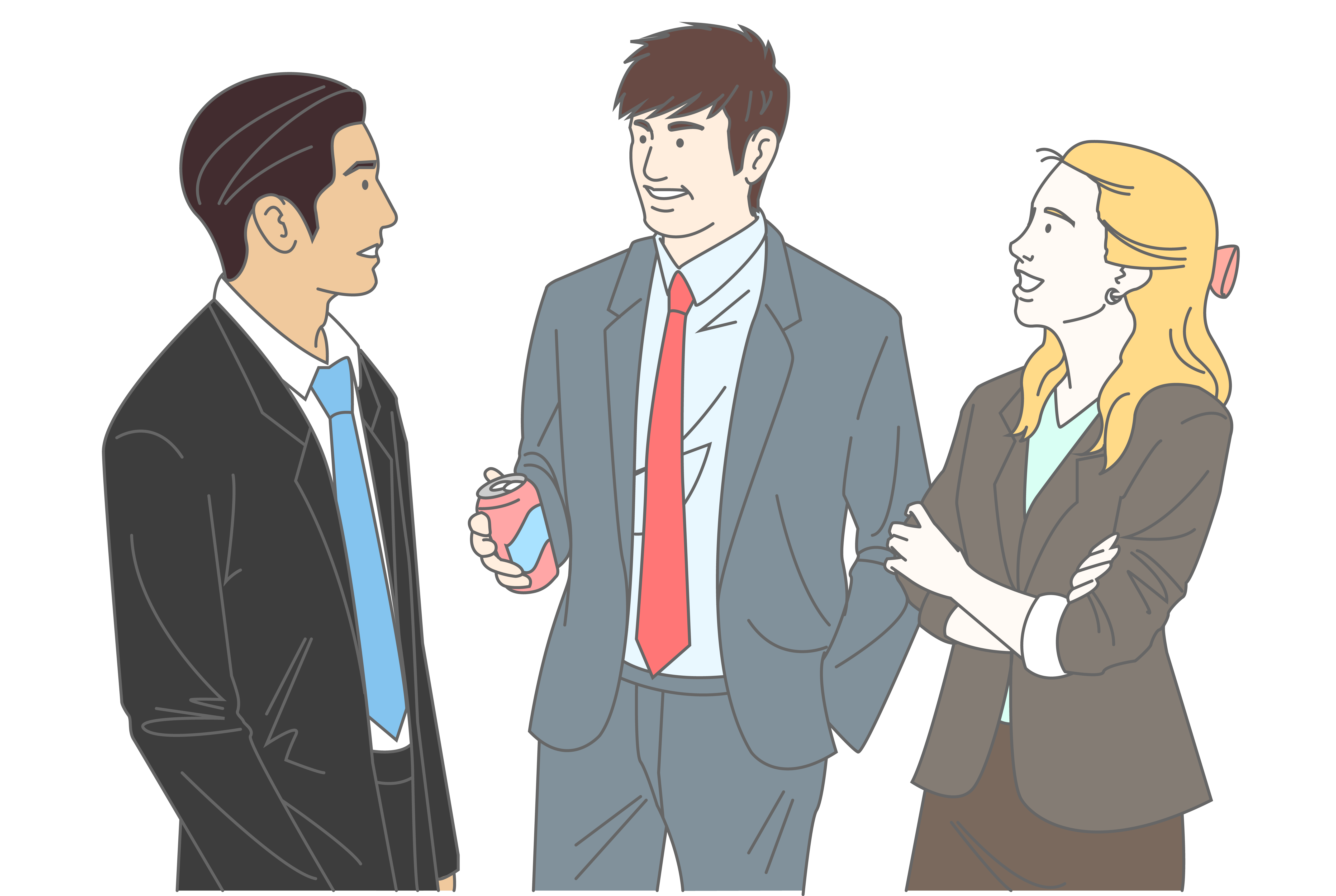 Toru:

I'm obsessed with this reality TV show called Mega Run. Have you guys heard of it?

Holly:

No, I haven't. What's it about?

Toru:

Well, it's basically a big race around LA. There are five different teams with four people each. It's not a simple running race, though – there are special challenges that each team has to do at checkpoints around the city. The show is unscripted, and it's really entertaining. I especially love when the team members start arguing. (laughs)

Scott:

Oh, yeah, I watch that show! I missed the last two weeks, though. Is the red team still winning this season?

Toru:

Yeah, I think so, but they might actually lose because of Leo, one of their team members. He's kind of useless. He doesn't help with the challenges much, and when he does, he usually messes up. He actually reminds me of Naoki. You've met him before, right? (laughs)

Holly:

Yeah, I met Naoki in Germany earlier this year. You don't like him? He seemed like a nice, hardworking guy to me…

Toru:

That's only because you haven't worked closely with him. Anyway, I really hope they kick Leo off the team. I'm amazed that they haven't tried to yet!

Scott:

Well, the producer might have just made him out to be a loser to make the show more interesting. Who knows? Lots of things happen behind the scenes that we don't see. Leo could be helping the team more than you think!
TRIVIA
In the US, reality TV shows have been all the rage for over 20 years now. The different types of reality shows seem almost endless: makeover shows, home renovation shows, dating contest shows, baking contest shows, hidden camera shows, celebrity daily life shows, etc.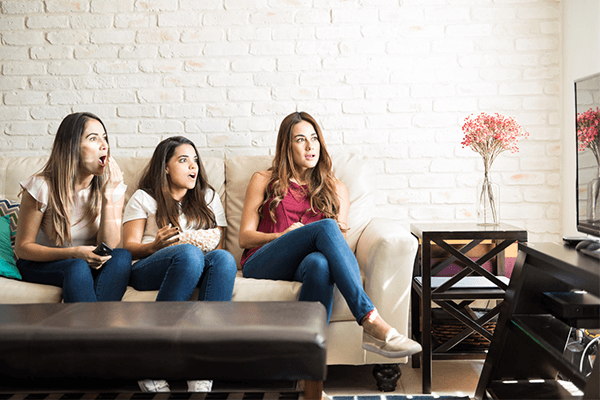 PRACTICE
STEP A EXERCISE
Match the sentences on the left with the expressions on the right.
1. Danny is a friendly guy, but the director wanted to portray him as a snob.

2. At the movie award show, the actor praised the staff who worked hard off-camera.

3. The president's speech last night was obviously not written beforehand.

a. behind the scenes

b. unscripted

c. make someone out to be something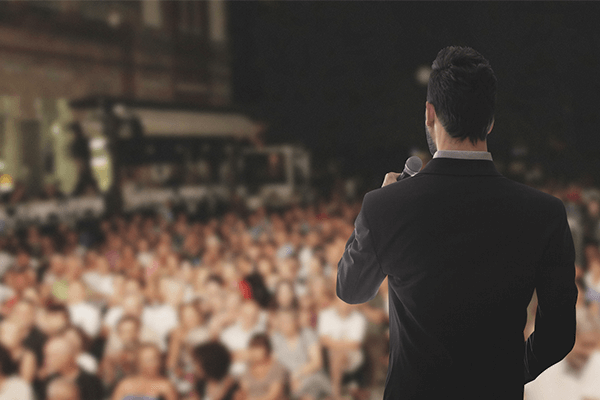 STEP B EXERCISE
Are the rephrased sentences correct? If not, correct them.
1. Emma still managed to be funny even though her jokes were unscripted.
→ Emma was funny because she read her jokes from a script that was prepared for her.
2. The documentary made Logan out to be a cruel boss.
→ Logan seemed like a cruel boss in the documentary, but he actually was pretty nice.
3. Charles was part of the staff who worked behind the scenes on the hit movie.
→  Charles worked as an actor in the successful movie.
4. Ellie said the truth, but her friends made her out to be a liar.
→ Ellie's friends said she was a liar even though she wasn't.
5. Jenny gave an unscripted speech at her sister's wedding.
→ Jenny read the speech that she had written earlier for her sister's wedding.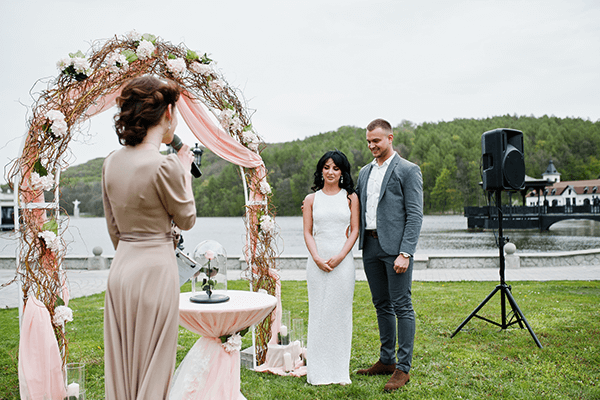 CHALLENGE
Challenge 1
Your friend loves reality TV, but all of his/her favorite reality shows are on a break right now. Suggest a new reality show for your friend to watch and discuss it.
Today's Expressions
behind the scenes
unscripted
make someone out to be something
First Man Standing
Description:
Ten contestants are placed on a secret island.
They have to find food, water, and shelter to survive.
They also must look for clues to figure out the location of the island.
The first person to guess the correct location wins $1,000,000.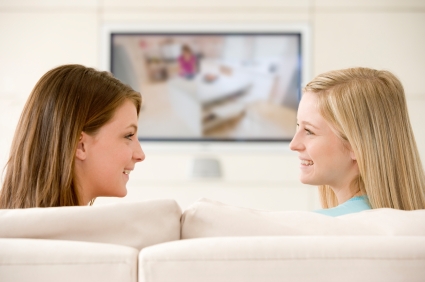 Challenge 2

If Time
Allows
1

REALITY TV

2

UNSCRIPTED SHOWS

3

BEHIND THE SCENES

Are reality TV shows popular in Japan?
What happens to people after they appear on reality TV shows (ex. become famous, become rich)?
What kind of reality show are you not interested in watching?
Why do you think some people want to be on reality TV shows?

Would you like to be on an unscripted reality TV show?
Are many Japanese shows unscripted?
Which kind of show do you prefer, scripted or unscripted?
Why do you think unscripted TV shows are so popular?

Would you like to know what happens behind the scenes of your favorite show?
Who do you think works harder, the people in front of the cameras or the people behind the scenes?
Is it important to recognize and praise people who work behind the scenes?
If you could work in show business, would you prefer to be in front of the cameras or work behind the scenes?
FEEDBACK
I can discuss reality TV.
LESSON GOAL ACHIEVEMENT
4


Very Good

Could complete the task with ease

3


Good

Could complete the task with some clarifications

2


Fair

Could complete the task with additional instructions

1


Poor

Could somehow complete the task with difficulty
PERSONALIZED FEEDBACK
RANGE
the ability to use a wide variety of vocabulary
ACCURACY
the ability to speak correctly
FLUENCY
the ability to speak smoothly without pauses or fillers
COHERENCE
the ability to speak logically and at length