INTRODUCE
It's unfortunate, but sometimes you realize that you really aren't friends with someone anymore. When this happens, you can quietly lose contact, but some people feel it's better to clearly end the friendship.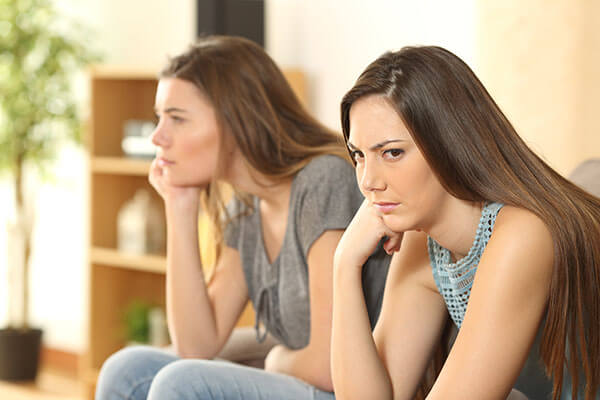 PRESENT
STEP A EXPRESSIONS
Go over the expressions with your tutor and answer the questions.
1. To give someone the cold shoulder means to ignore a person.

Kenny and Anna are giving each other the cold shoulder.

Q: What would you do if your friend suddenly gave you the cold shoulder?

2. To be sick and tired of something/someone means to be irritated with that thing or person.

Angie's always talking about herself. I'm sick and tired of it.

Q: What are you sick and tired of?

3. To burn bridges means to cut ties with someone in a way that makes them really dislike you.

I warned Zach not to burn bridges when he quit his job, but he didn't listen to me: He called all of his coworkers idiots on his last day.

Q: Have you ever burned bridges with someone?
STEP B PRONUNCIATION
The is pronounced as /thuh/ when the next word starts with a consonant sound. It's pronounced as /thee/ when the next word starts with a vowel sound.
Phrase
Example

the cold shoulder

/ thuh kohld shohl-der /

Don't give me / thuh kohld shohl-der /.

the end

/ thee end /

This is / thee end / of our friendship.
UNDERSTAND
SPEAKING
Kelsie and Mami are talking on the phone.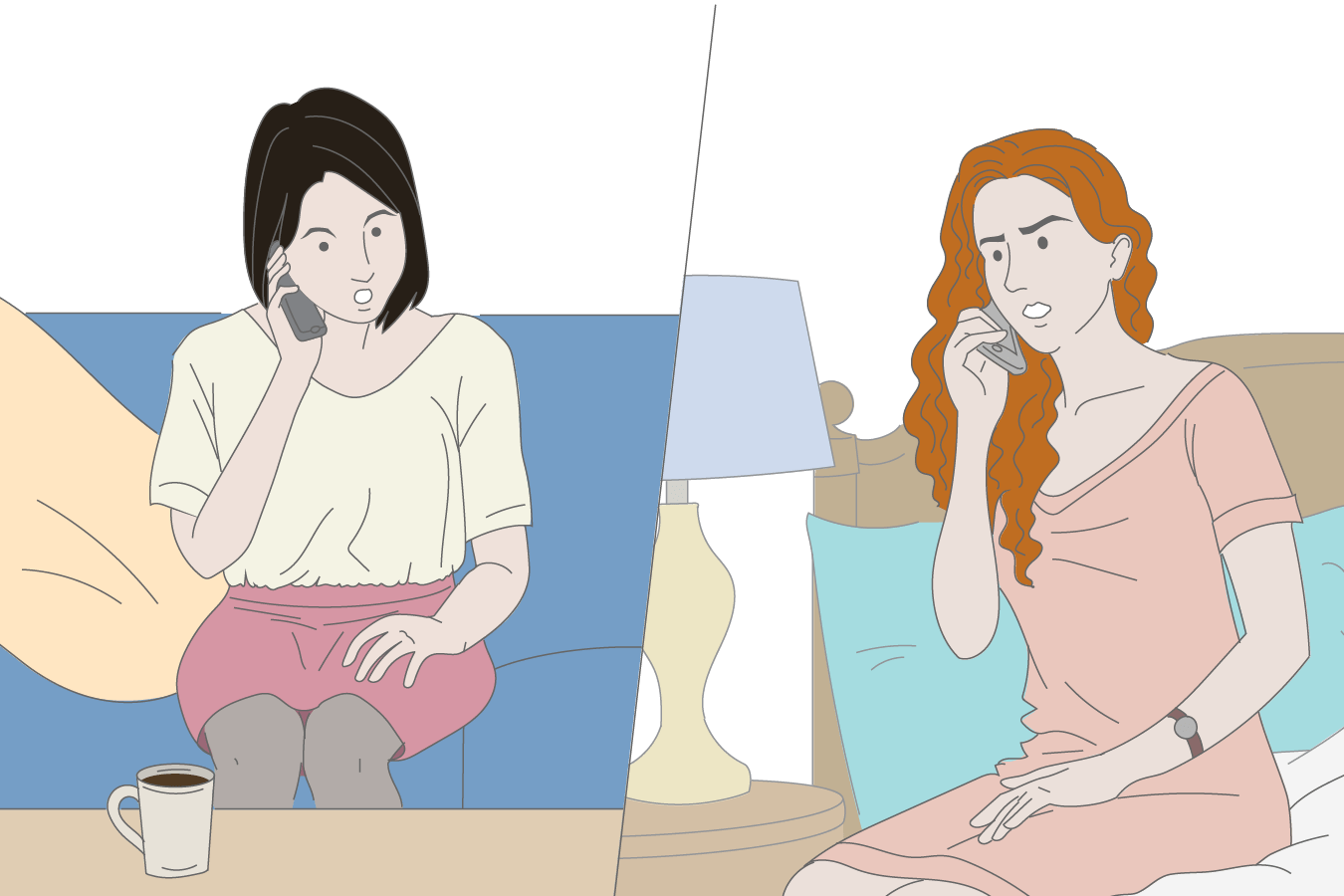 Kelsie:

I'm really happy for you, but are you sure about getting married?

Mami:

I've never been this sure in my life. I know Kenta's the one. I told Yuko about it too. She was so excited for us!

Kelsie:

Oh, speaking of Yuko… I don't think I can stay friends with her. I mean, how can she date Charlie behind my back?

Mami:

(sighs) I hate that it's come to this, but I can't blame you for feeling that way. Have you talked to her about it yet?

Kelsie:

Not yet…  I'm still thinking about what to do. I wanted to confront her, but my mom warned me against burning bridges. She said you never know when you'll want someone back in your life, so it's better to just fade away quietly. I don't like ghosting, though. It's not my style – if I have a problem with someone, I want them to know about it!

Mami:

Well, she's definitely aware that something is wrong. She asked me yesterday why you were giving her the cold shoulder. I didn't know what to say, so I just told her that I wasn't sure.

Kelsie:

Ugh, I'm so sick and tired of feeling like this! I just want things to be the way they used to be before I found out about her and Charlie.

Mami:

Just give it some time. Our friendship is stronger than this.

Kelsie:

I don't know…
TRIVIA
Ghosting is when you suddenly end all contact with someone with no explanation why. It means disappearing from a person's life without a trace, just like a ghost.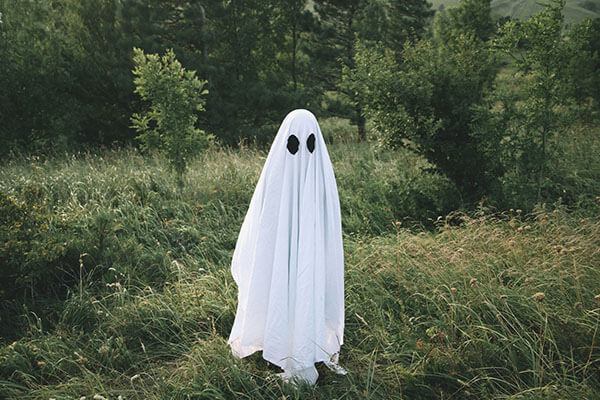 PRACTICE
STEP A EXERCISE
Rephrase the sentences using the expressions in the box. The form of some expressions may need to be changed.
be sick and tired of something/someone
give someone the cold shoulder
burn bridges
Yuki can't put up with Saori's attitude anymore.
Danny really wanted to send a mean message to Eric before unfriending him, but his brother said he shouldn't do that.
Nancy is completely ignoring Philip.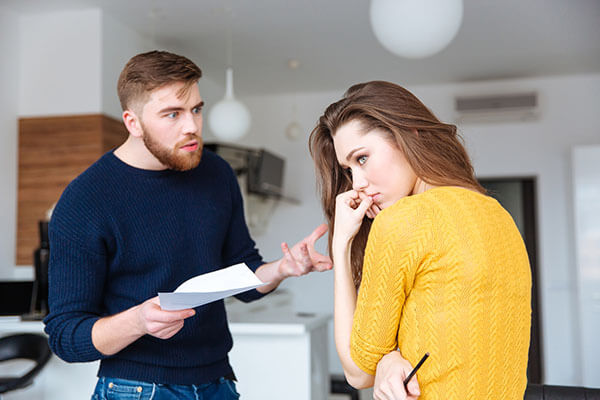 STEP B EXERCISE
Are the underlined expressions used correctly? If not, change the sentences.
I'

m

sick and tired of Brenda! She's really thoughtful and nice.
Kira burned bridges when she quit, so her boss told her she was always welcome to return.
Vince is giving me the cold shoulder. He won't leave me alone!
Annie

is sick and tired of Leo's constant nagging

.
CHALLENGE
Challenge 1
Your roommate wants to talk to you about his/her friendship problems. Give him/her advice on how to deal with it.
Today's Expressions
give someone the cold shoulder
be sick and tired of something/someone
burn bridges
Challenge 2

If Time
Allows
1

ENDING A FRIENDSHIP

2

GHOSTING

3

MISTAKES AND FORGIVENESS

What situations would push you to end a friendship with someone?
How would you feel if a close friend ended your friendship?
Is there anything you can do to prevent a friendship from ending?
Do friendships always end because of something bad?

Is ghosting common in Japan?
How would you feel if a friend ghosted you?
What reasons would a person have for ghosting someone?
In your opinion, why do many psychologists say that ghosting can be more painful than a fight?

3

MISTAKES AND FORGIVENESS

Would you still be friends with someone who has wronged you?
Is it easier to forgive a stranger or a friend?
What kind of mistakes are easy to forgive? What kind of mistakes are difficult to forgive?
How long does it usually take you to forgive a friend?
FEEDBACK
I can talk about ending a friendship.
LESSON GOAL ACHIEVEMENT
4


Very Good

Could complete the task with ease

3


Good

Could complete the task with some clarifications

2


Fair

Could complete the task with additional instructions

1


Poor

Could somehow complete the task with difficulty
PERSONALIZED FEEDBACK
RANGE
the ability to use a wide variety of vocabulary
ACCURACY
the ability to speak correctly
FLUENCY
the ability to speak smoothly without pauses or fillers
INTERACTION
the ability to manage a conversation