INTRODUCE
People love to talk about what they would do if they won the lottery. It's not realistic, but it can tell you a lot about someone!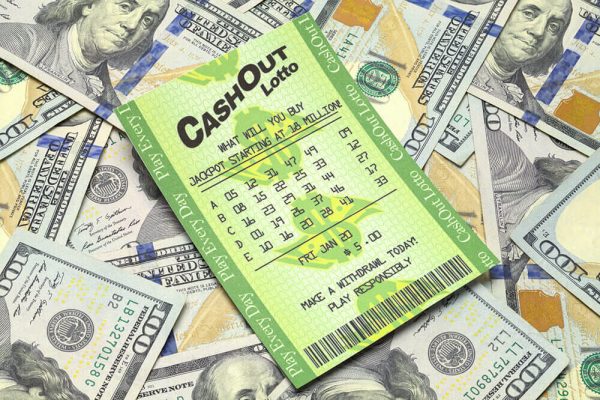 PRESENT
STEP A EXPRESSIONS
Go over the expressions with your tutor and answer the questions.
1. To have money to burn means that you have a lot of money that you can spend.

Q: If you had money to burn, which would you rather spend your money on: shopping or travel?

2. If you picture someone doing something, you imagine them doing it.

Q: Which activity can you picture yourself doing on a boring weekend: hanging out with friends or reading a book?

3. The phrases if I… and I would… are used together to talk about your actions in an imagined situation.

Q: If you could live in a castle for a year or travel to outer space, which would you choose?
STEP B PRONUNCIATION
When the letter t appears between two vowel sounds, it is often pronounced as /d/.
Phrase
Example

money to burn

/ money duh burn /

Jeremy has / money duh burn /.
UNDERSTAND
SPEAKING
Yuko, Mami, and Kelsie are hanging out at a café.
Yuko:

Guess what? I bought a lottery ticket!

Mami:

I heard the jackpot is 100 million yen right now.

Yuko:

Yeah! I'm praying so hard to get the grand prize. If I won, I'd definitely quit my job and start my own business.

Mami:

Wow! I really hope you win, Yuko. Hmm… What about you, Kelsie? What would you do if you won the lottery?

Kelsie:

Well, if I had money to burn, I would definitely take a year off of work and travel the world! How about you?

Mami:

I'd save it for my dream wedding, of course! I can picture myself wearing a designer wedding gown in a fancy ceremony. Then, for our honeymoon, my husband and I would travel all around Europe.

Yuko:

Whoa! That would be so amazing.

Mami:

I know! But first, I need to get a lottery ticket.

Kelsie:

And a boyfriend! (laughs)
TRIVIA
It's often said that the probability of winning the biggest lottery in Japan is the same as the probability of being hit by lightning: 1 in 10,000,000. The probability of finding a four-leaf clover, on the other hand, is much higher: 1 in 10,000.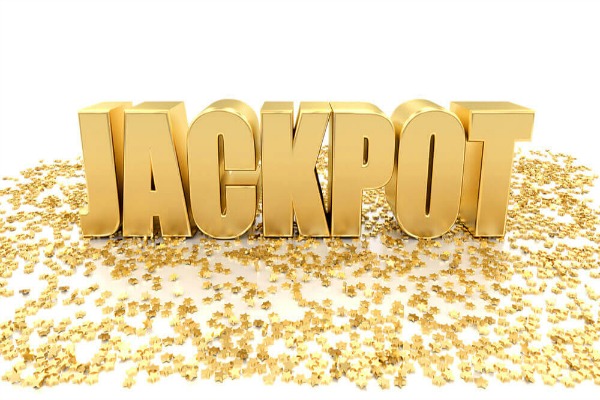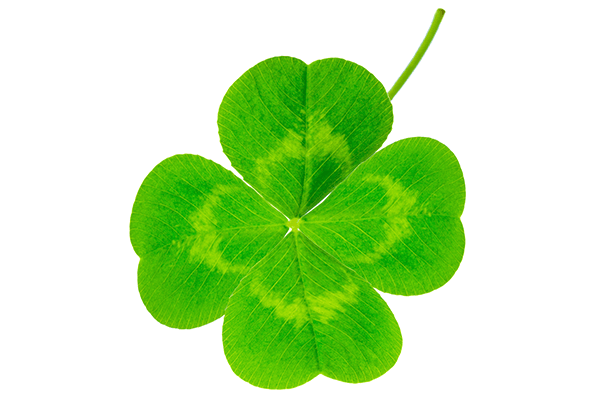 PRACTICE
STEP A EXERCISE
Complete the sentences using the pictures and the expressions in the box. The form of some expressions may need to be changed.
have money to burn
picture someone doing something
If I..., I would...
3. If I _____, I would _____.
STEP B EXERCISE
Complete the speech using your own information.
If I won the lottery and could travel anywhere I wanted, I would go to _____. I picture myself _____. It would be great to have money to burn on _____.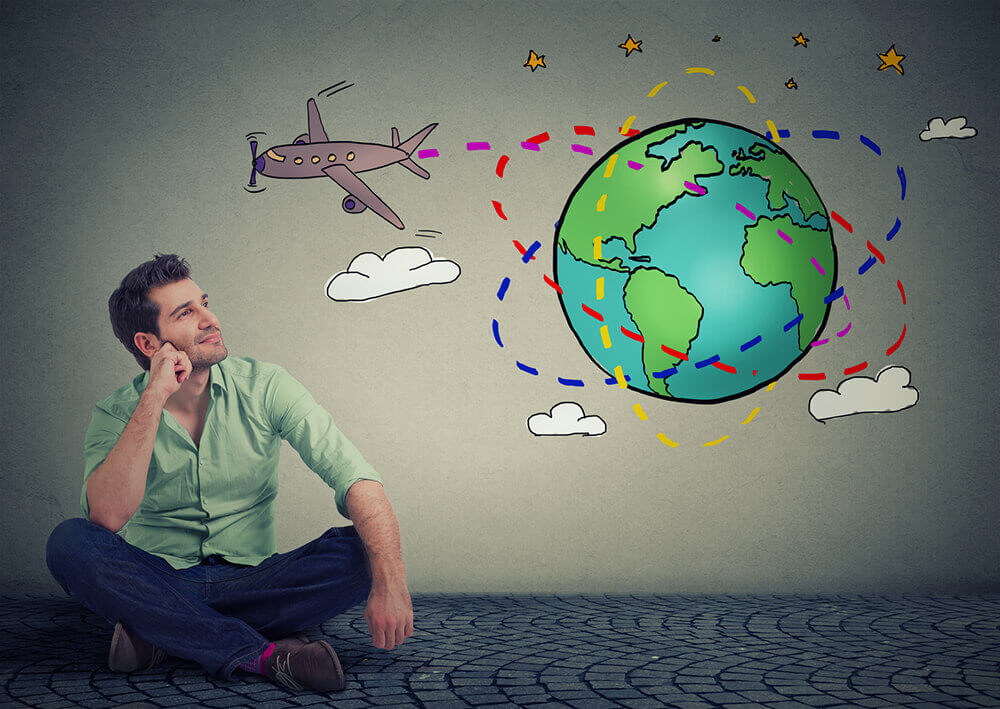 CHALLENGE
Challenge 1
You and your friend bought lottery tickets. There are several different prizes. Talk with your friend about what you would do if you won any of the prizes.
Today's Expressions
have money to burn
picture someone doing something
If I..., I would...
LOTTERY

Grand Prize:

1st Prize:

2nd Prize:

3rd Prize:

¥100,000,000
¥30,000,000

¥1,000,000

¥100,000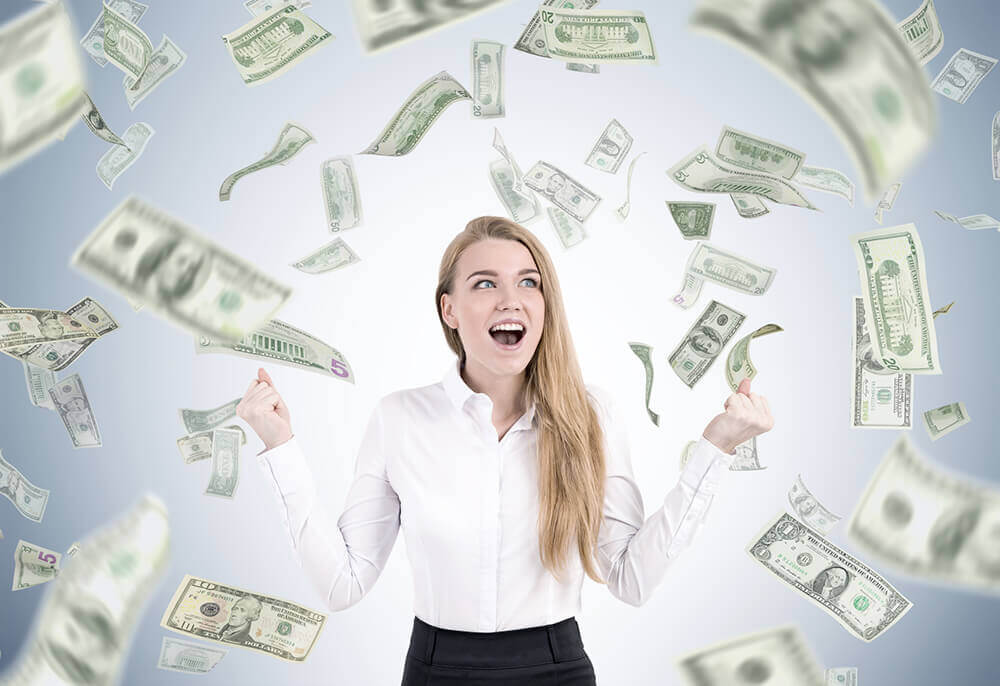 Challenge 2

If Time
Allows
1

THE LOTTERY

2

QUICK MONEY VS HARD-EARNED MONEY

3

IMAGINING YOUR FUTURE

Is the lottery popular in Japan?
Have you ever bought lottery tickets?
If you won the lottery, would you share the prize with anyone?
What are some disadvantages of winning the lottery?

2

QUICK MONEY VS HARD-EARNED MONEY

Why do you think some people choose faster ways to earn money like playing the lottery?
Aside from winning the lottery, what are some other ways to get money without much work?
Which do you think is better, winning money in the lottery or working hard to earn money?
Is it worth it to spend lots of money on the lottery in the hopes of getting rich quick?

What do you picture yourself doing five years from now?
Where do you imagine your next summer vacation to be?
Can you picture yourself living in another place in the next ten years?
What do you see yourself doing after retirement?
FEEDBACK
I can talk about what I would do if I won the lottery.
LESSON GOAL ACHIEVEMENT
4


Very Good

Could complete the task with ease

3


Good

Could complete the task with some clarifications

2


Fair

Could complete the task with additional instructions

1


Poor

Could somehow complete the task with difficulty
PERSONALIZED FEEDBACK
RANGE
the ability to use a wide variety of vocabulary
ACCURACY
the ability to speak correctly
FLUENCY
the ability to speak smoothly without pauses or fillers
COHERENCE
the ability to speak logically and at length