INTRODUCE
Modern and traditional Japanese toilets can both sometimes confuse foreigners. The subject can be sensitive, but it's important to be able to talk about it.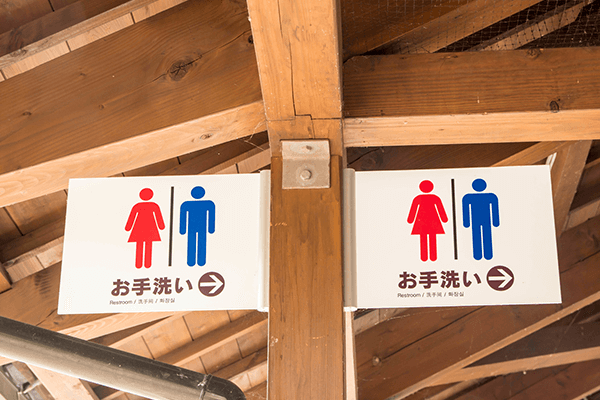 PRESENT
STEP A EXPRESSIONS
Go over the expressions with your tutor and answer the questions.
1. A squat toilet refers to a traditional Japanese toilet that is used by squatting.

You're welcome to use the bathroom, but it only has a squat toilet.

Q: Which picture shows a squat toilet? Why?

| | |
| --- | --- |
| A | B |

2. To do away with something means to completely stop or put an end to something.

He encourages his family members to do away with using plastic products.

Q: Which picture shows something that was done away with? Why?

| | |
| --- | --- |
| A | B |

3. In a pinch refers to an emergency or other desperate situations.

You can always call me when you're in a pinch.

Q: Which picture shows a person in a pinch? Why?

| | |
| --- | --- |
| A | B |
STEP B PRONUNCIATION
When one word ends with a vowel sound and the next word starts with a vowel sound, a consonant sound is sometimes added to connect them.
Phrase
Example

do away

/ do-wah-way /

They should / do-wah-way / with that stupid rule.
UNDERSTAND
SPEAKING
Kelsie and Addison, her friend from Canada, are shopping at a department store in Tokyo.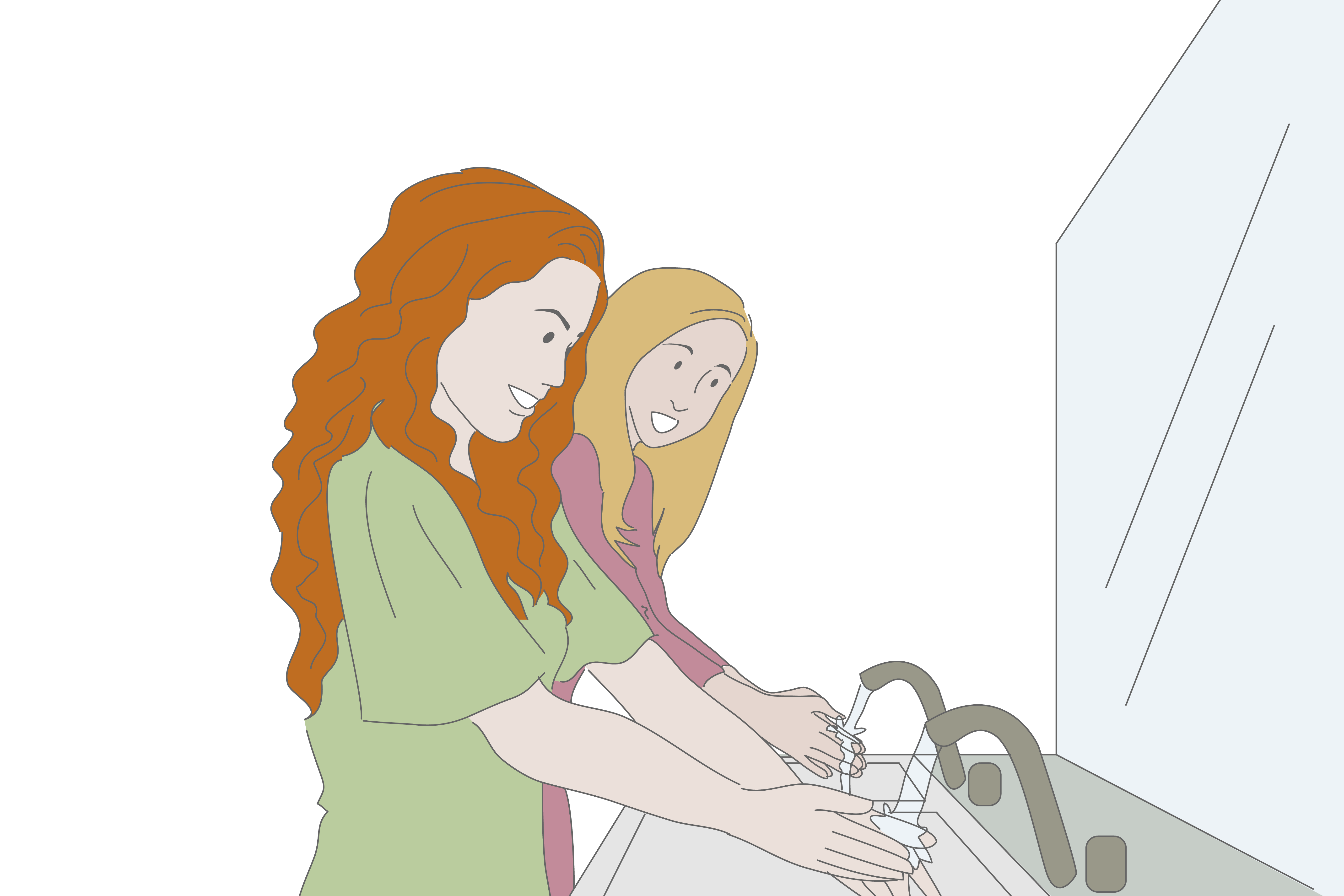 Addison:

So it's true what they say about Japanese toilets being so high-tech! I was trying to figure out how to use the buttons, but thankfully they have symbols.

Kelsie:

I know, right? They're pretty cool!

Addison:

I panicked a little when there was a sudden flushing sound. (laughs)

Kelsie:

Yeah, I was surprised the first time I heard that sound too! (laughs) It's meant to cover the, uh, sounds. But, actually, not all Japanese toilets are modern.

Addison:

What do you mean?

Kelsie:

There are still traditional squat toilets here in Japan. You know, the ones where you have to squat instead of sit?

Addison:

Oh, yeah! I've seen those in China. They still have those here?

Kelsie:

Yup! I don't know why, but even when they renovate, they often don't do away with them. Like in this bathroom: There are six modern toilets, but if you go to the very back, you'll see there's also a squat toilet. I guess some people prefer them. They say that they're actually better for you. I have to say, though, that I'm not a fan. I've only used a squat toilet once, and it was because I was in a pinch.

Addison:

That's probably the reason why there are still squat toilets… So one stall will always be open when you're in a pinch! (laughs)

Kelsie:

(laughs) Yeah, probably!
TRIVIA
Do you know how to say toire wo nagasu (トイレを流す) in English? Many foreign visitors to Japan are amused by English signs that incorrectly translate it as wash. The correct way to say it in English is flush.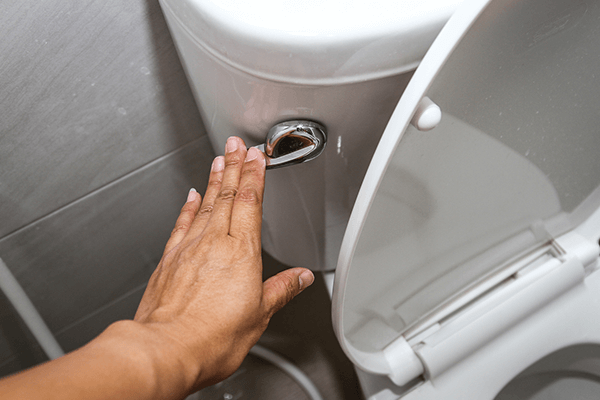 PRACTICE
STEP A EXERCISE
The underlined expressions are close but not quite correct. Correct them.
It's not the best, but it's suitable when you're with a pinch.
Your company should do away to flip phones. Don't most people buy smartphones nowadays?
Some people prefer to use a squatting toilet.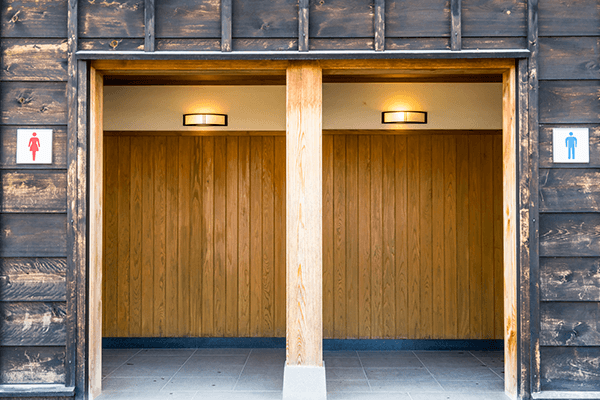 STEP B EXERCISE
Rephrase the sentences using the expressions in the box. The form of some expressions may need to be changed.
a squat toilet
do away with something
in a pinch
This restaurant should stop using these paper cups. They should have reusable cups instead.
I visited an old Japanese house yesterday. It only had a traditional toilet!
Can you help me? I'm kind of having an emergency!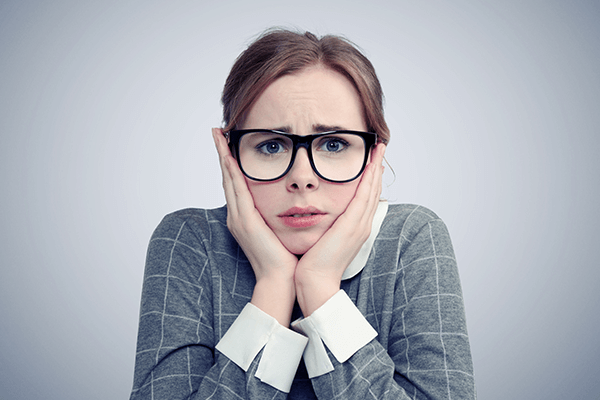 CHALLENGE
Challenge 1
You and your foreign friend just used a bathroom at a train station. Talk about Japanese toilets.
Today's Expressions
a squat toilet
do away with something
in a pinch
Challenge 2

If Time
Allows
1

TOILETS

2

PUBLIC RESTROOMS

3

PUTTING AN END TO SOMETHING

Which do you prefer, squat toilets or modern toilets?
If you could add a new feature to a toilet, what feature would you add?
Why do you think foreigners find Japanese toilets so interesting?
Do you think Japan should do away with squat toilets?

Is it common for stores in Japan to let you use their restrooms?
What are Japanese public restrooms usually like (ex. clean, crowded)?
What places do you think have the best public restrooms (ex. train stations, pachinko parlors)?
What are some unique things that can be found only in Japanese public restrooms?

3

PUTTING AN END TO SOMETHING

What fashion styles do you want to put an end to?
What traditions do you want to put an end to?
What hair trends do you want to put an end to?
What social problems do you want to put an end to (ex. poverty, racism)?
FEEDBACK
I can talk about Japanese toilets.
LESSON GOAL ACHIEVEMENT
4


Very Good

Could complete the task with ease

3


Good

Could complete the task with some clarifications

2


Fair

Could complete the task with additional instructions

1


Poor

Could somehow complete the task with difficulty
PERSONALIZED FEEDBACK
RANGE
the ability to use a wide variety of vocabulary
ACCURACY
the ability to speak correctly
FLUENCY
the ability to speak smoothly without pauses or fillers
INTERACTION
the ability to manage a conversation