INTRODUCE
For many tourists, a visit to Japan isn't complete without visiting a few shrines and temples. They may ask a lot of questions about them, so knowing how to answer those questions is very important!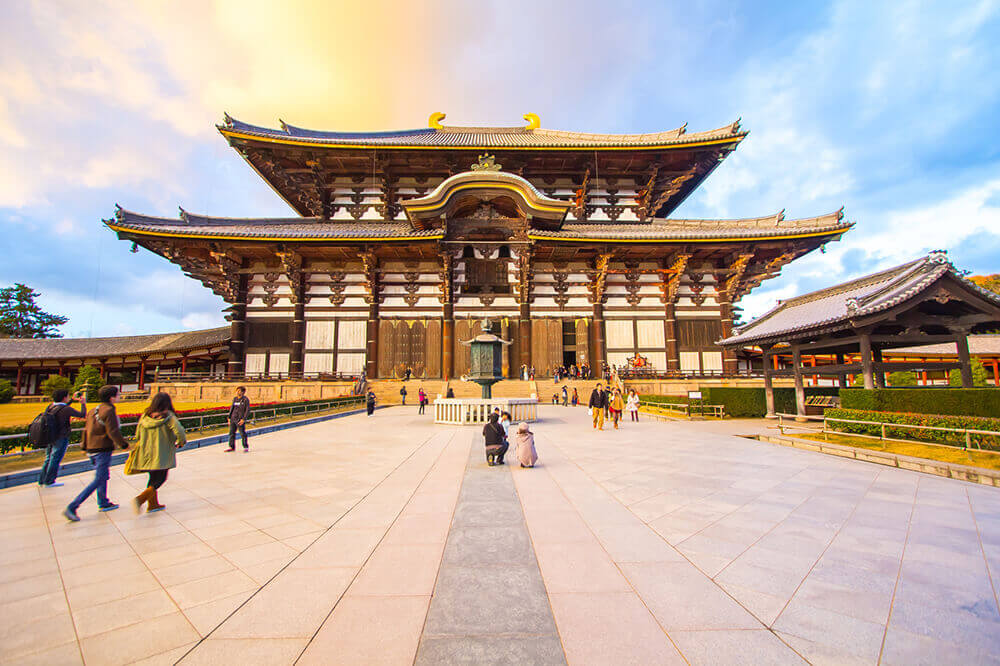 PRESENT
STEP A EXPRESSIONS
Go over the expressions with your tutor and fill in the blanks.
1. When someone tends to do something, they are likely to do it often.

Students tend to go there to pray for their exams.

I tend to _____ when I'm bored.

2. A good luck charm is an object that people believe will bring them good luck.

The shrine sells different kinds of good luck charms.

I (believe / don't believe) in good luck charms because _____.

3. To be for something means that it's used for a special purpose.

This bracelet is for happiness in life.

If I were to buy a good luck charm, it would be for _____.
STEP B PRONUNCIATION
When a word ends with /d/ and the next word starts with /l/, the two sounds are often linked together.
Phrase
Example

good luck

/ goo-dluck /

I have lots of / goo-dluck / charms.
UNDERSTAND
LISTENING
Kelsie is listening to a voicemail from Mami.
TRIVIA
Foreigners who come to Japan often can't tell the difference between temples and shrines. The simplest way to explain it is to say that temples usually have statues of Buddha and graves, while shrines have torii gates.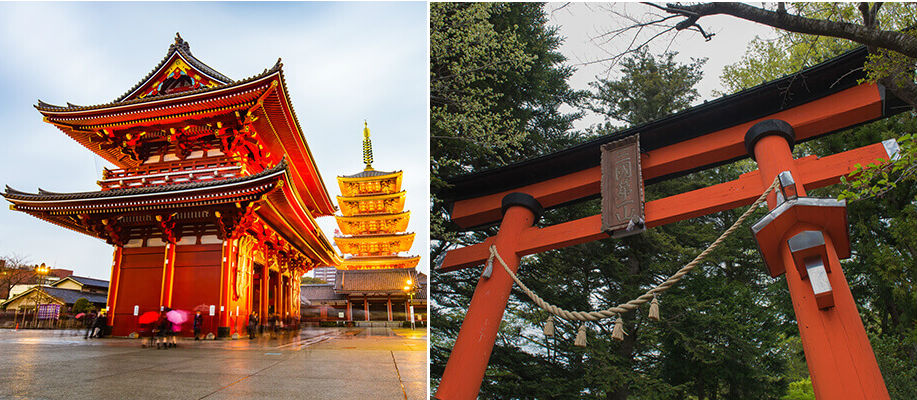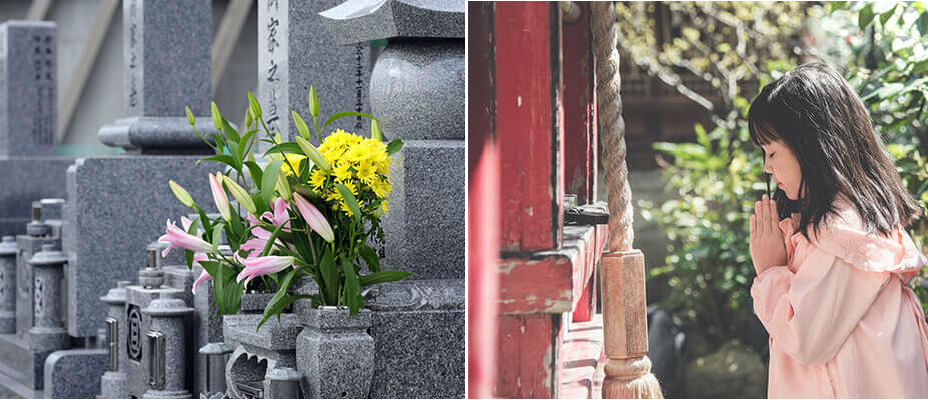 PRACTICE
STEP A EXERCISE
Fill in the blanks using the expressions in the box. Some expressions may be used more than once, and the form of some expressions may need to be changed.
a good luck charm
be for something
tend to
Last week, a friend took me to a temple for the first time. I learned that people _____ go there to pray for their ancestors. While I was there, I bought a kenko omamori and a gakugyō-jōju. Kenko omamori _____ and gakugyō-jōju _____. There were a lot of other _____ too. I almost bought one of each! I _____ buy everything I want when I have money. Thankfully, I didn't have much cash on me that day.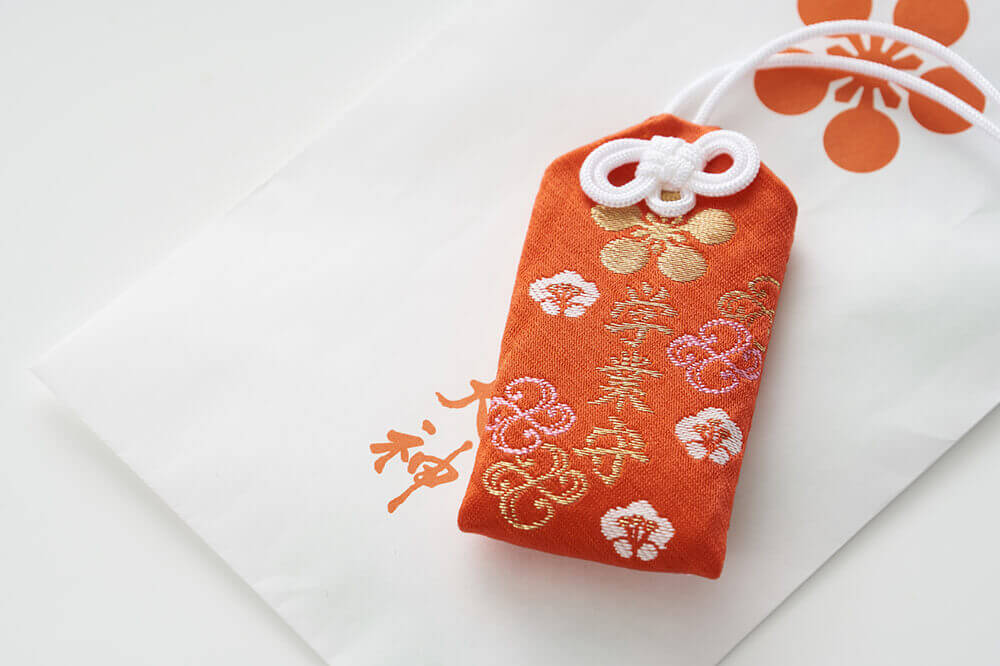 STEP B EXERCISE
Rephrase the sentences using the expressions in parentheses. The form of some expressions may need to be changed.
ex. (be for something) It helps you stay in good health.
→ It's for good health.
(tend to) People often hold weddings in shrines or churches.
(a good luck charm) I bought an omamori for my car.
(tend to) People usually wash their hands at purification fountains at shrines.
(be for something) My friend said this good luck charm can help me have a happy marriage.
(tend to) People usually light incense inside temples in Japan.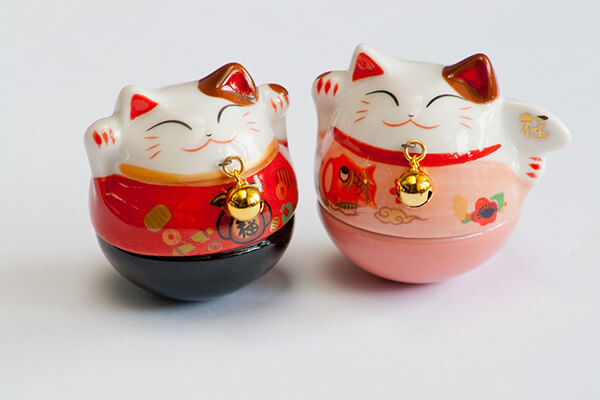 CHALLENGE
Challenge 1
Your best friend is in Kyoto for a vacation. He/She left you a voicemail about it. Listen to the voicemail. Then, talk about it with your foreign coworker who's also going on vacation to Kyoto soon.
Today's Expressions
tend to
a good luck charm
be for something
Challenge 2

If Time
Allows
1

TEMPLES

2

SHRINES

3

GOOD LUCK CHARMS

What temples have you been to?
Which one was your favorite?
What temple would you like to visit in the future?
How often do people usually visit temples (ex. once a month, once a year)?

What shrine have you visited recently?
What did you do there?
What place in Japan has the best shrines?
Is it okay to take pictures inside shrines?

Have you ever bought a good luck charm?
What are the most common good luck charms in Japan?
Why do you think some people don't believe in good luck charms?
Do you know about good luck charms from other cultures (ex. four-leaf clovers, horseshoes)?
FEEDBACK
I can listen to and understand someone talking about shrines and temples.
LESSON GOAL ACHIEVEMENT
4


Very Good

Could complete the task with ease

3


Good

Could complete the task with some clarifications

2


Fair

Could complete the task with additional instructions

1


Poor

Could somehow complete the task with difficulty
PERSONALIZED FEEDBACK
RANGE
the ability to use a wide variety of vocabulary
ACCURACY
the ability to speak correctly
FLUENCY
the ability to speak smoothly without pauses or fillers
INTERACTION
the ability to manage a conversation