INTRODUCE
Knowing the cause of your symptoms is important so that you can get immediate treatment.迅速な処置を受けるためには、症状の原因を知ることが大切です。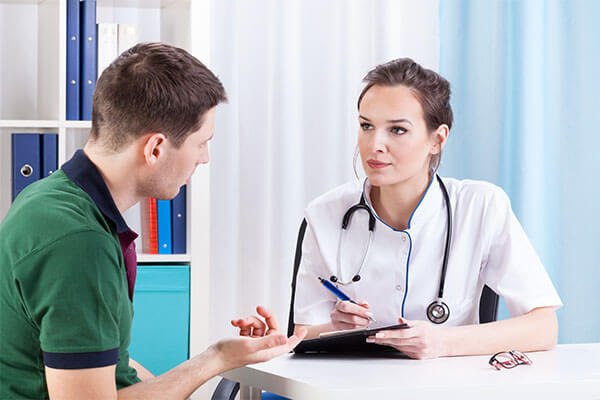 PRESENT
STEP A VOCABULARY
I. Listen and repeat.聴いて、リピートしましょう。
| | |
| --- | --- |
| jet lag時差ぼけ | stressストレス |
| allergiesアレルギー | a cold風邪 |
| the fluインフルエンザ | lack of sleep睡眠不足 |
II. Which of the problems above will you have if you work too much or stay up late every day? Choose two or three problems for each.毎日働きすぎたり、寝不足が続くと、どんな問題が起こりますか?上記のうち、それぞれ2つか3つ選びましょう。
work too much

stay up late every day
III. Practice reading the words.単語を読む練習をしましょう。
/æ/

/ə/

allergies

アレルギー

alike

同様で

agony

苦悩

ago

前に

absent

不在の

about

について
STEP B GRAMMAR TIP
Use must, might, and could to talk about degrees of certainty.  
must、 may、 couldを使って、可能性ついて話すことができます。
| | |
| --- | --- |
| must | 99% certain |

Use must to say that you are very sure about something.

mustは、何かについて確信がある時に使います。

My eyes are itchy every spring. It must be allergies.

私は、毎年春になると目がかゆくなります。アレルギーに違いないです。
Use might to say that you think something is possible but aren't sure.

mightは、確実ではありませんが、可能性がある時に使います。

I can't sleep. It might be stress.
Use could to say that you think something is possible but are even less sure.

couldは、さらに可能性が低い時に使います。

You have a slight fever. It could be the flu.

あなたは少し熱があります。インフルエンザということもありえます。
UNDERSTAND
SPEAKING
Sho is talking to a doctor at a clinic in Australia.
ショウはオーストラリアのクリニックで医者と話しています。
Doctor:

Mr. Iwasaki, it says here that you're having headaches, dizziness, and chest pain.

Sho:

Yeah. I'm worried that I might have heatstroke. I heard on the radio that headaches and dizziness are all symptoms of heatstroke.

Doctor:

Have you been staying outdoors a lot lately?

Sho:

No. Actually, I'm in the office most of the time.

Doctor:

Does your office have air-conditioning?

Sho:

Yes.

Doctor:

Hmm… I don't think you have heatstroke. You look tired. Do you work late?

Sho:

Well, I basically work until midnight Monday through Friday, and sometimes I work on Saturday too.

Doctor:

Hmm. If that's the case, then it could be stress. Let's run a few tests to make sure.
TRIVIA
Did you know that the word karoushi (過労死) does not exist in English? If you had to translate it, you could say death from too much work, but this is not a common idea in English-speaking countries. The fact that Japanese has such a word is surprising to many foreigners.
「過労死」という単語は英語にはありません。もし英語にするならば、「death from too much work」(過労による死)と言いますが、欧米でそのようなことが起きることは通常ありません。日本語にそのような単語があること自体に、多くの外国人は驚きます。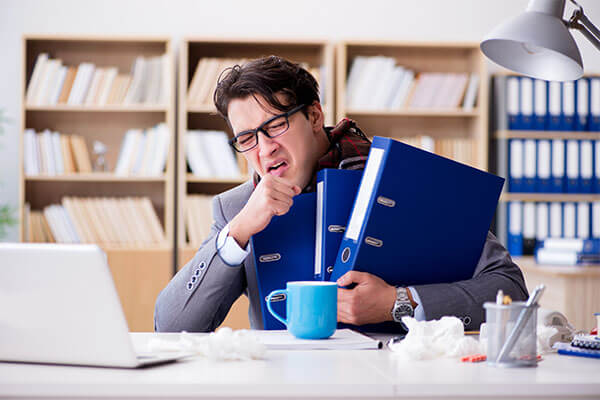 PRACTICE
STEP A EXERCISE
Choose the sentences that best match the underlined sentences.
下線部の文と同じ意味の文を選びましょう。
1. I have a stomachache. I'm 99% sure that it's the oysters I ate.
It could be the oysters I ate.
It must be the oysters I ate.
2. I couldn't sleep after the flight. I'm 20% sure that it's jet lag.
It could be jet lag.
It might be jet lag.
3. My nose is runny. I'm 50% sure it's a cold.
It must be a cold.
It might be a cold.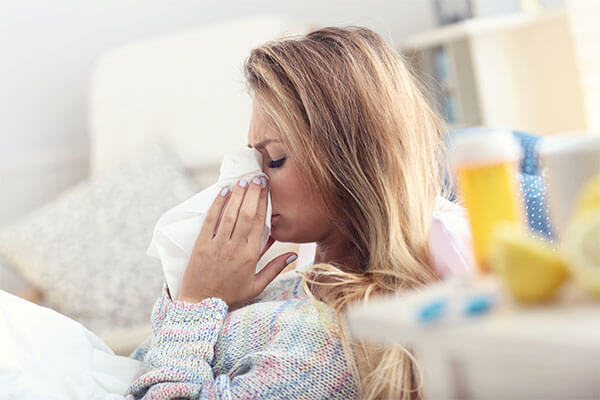 STEP B EXERCISE
Complete the dialogue using the clues in parentheses.
カッコの単語をヒントに、会話を完成させましょう。
Aki:

My body really hurts, Dan. It even hurts when I lie down! What do you think this is?

Dan:

(50% sure: the flu) It _____.

Aki:

I don't think it's the flu. I don't have a fever.

Dan:

(20% sure: the way you slept last night) Well, it _____.

Aki:

I don't think so… I always sleep on my back.

Dan:

Well, did you do anything new recently?

Aki:

Yeah, I just joined a gym two days ago.

Dan:

Aki! (99% sure: just regular muscle pain) It _____. Just relax today and you'll be fine. (laughs)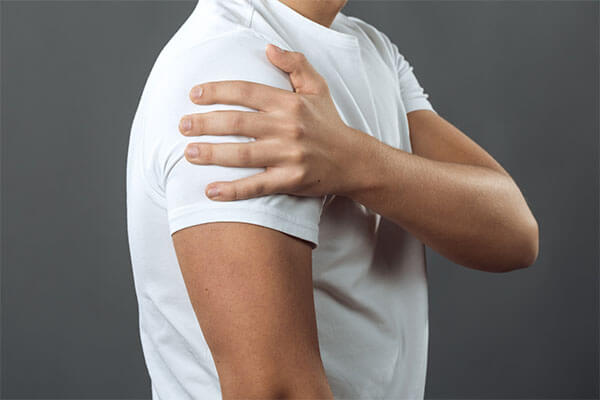 CHALLENGE
Challenge 1
You woke up with a stomachache and a fever.
Call your coworker and explain that you're sick and cannot go to work today.
同僚に電話をして、体調が悪く今日は仕事に行けないと言いましょう。
Today's grammar tip
Challenge 2
Discuss your ideas. あなたの意見を言いましょう。

If Time
Allows
1

GOING TO THE DOCTOR

2

ILLNESSES

3

WORK AND STRESS

When was the last time you went to the doctor?
Do you always feel better after going to the doctor?
What is the best way to find a doctor if you're new in the area?
Is it common in Japan to have a family doctor?

What is the scariest illness you can think of?
What are the symptoms of this illness?
Who usually gets this illness (ex. children, people in another country)?
Is there a cure for this illness?

Do you agree that working too much can cause stress?
How much time should people spend at work?
Do you think stress can be a good thing sometimes?
How can you live a stress-free life?
FEEDBACK
I can talk about the possible cause of my symptoms.
症状の考えられる原因を話せるようになる。
LESSON GOAL ACHIEVEMENT
4


Very Good

Could complete the task with ease

3


Good

Could complete the task with some clarifications

2


Fair

Could complete the task with additional instructions

1


Poor

Could somehow complete the task with difficulty
PERSONALIZED FEEDBACK
RANGE 表現の幅
語彙をどの程度使えるか
ACCURACY 正確さ
文法が正しく使えているかどうか
FLUENCY 流暢さ
円滑に喋ることができるかどうか