INTRODUCE
When we find out that someone is sick, we usually ask what they have done to feel better. 誰かが病気だと知ったら、良くなるために何をしたかを尋ねます。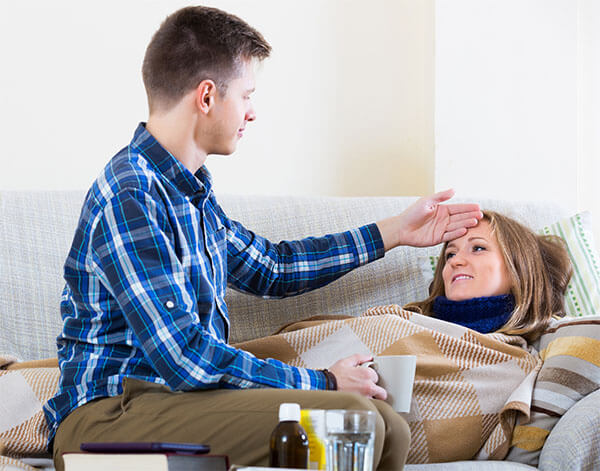 PRESENT
STEP A VOCABULARY
I. Listen and repeat.聴いて、リピートしましょう。
| | |
| --- | --- |
| take your temperature熱を測る | gargleうがいをする |
| take vitamin CビタミンCを摂取する | take medicine薬を飲む |
| get the flu shotインフルエンザの予防接種をする | go to the doctor医者に行く |
II. Which of the things above do you do?上記のうち、どれをしますか?
III. Practice reading the words.単語を読む練習をしましょう。
/fl/

/fr/

flu

インフルエンザ

fruit

果物

float

浮く

froze

freeze(凍る) の過去形

flesh

肉

fresh

新鮮な
STEP B GRAMMAR TIP
Use the present perfect have + (past participle) to talk about actions that happened at an indefinite time.
現在完了(have + (過去分詞))を使って、これまでの行動について話すことができます。
You can change most verbs into their past participle form by adding -ed or -d. Remember to change y to i when writing.

ほとんどの動詞は、動詞の最後に-edや-dを付けることによって過去分詞に変えることができます。動詞の最後がyの場合は、yをiに変えることを忘れないでください。

| REGULAR VERB | PAST PARTICIPLE |
| --- | --- |
| accept | accepted |
Some verbs have irregular past participle forms.

いくつかの動詞は、不規則動詞で過去分詞は違う形になります。

| IRREGULAR VERB | PAST PARTICIPLE |
| --- | --- |
| get | gotten |

Joanne has gotten the flu shot.

I haven't taken medicine yet.

Has Ivan gone to the doctor?

Have you taken your temperature?
UNDERSTAND
SPEAKING
Sho is sick but decided to still come to work because of a big project deadline.
ショーは病気ですが、大きなプロジェクトの締切りのため、出社することにしました。
Ai:

Hey, Sho! You're wearing a mask. Are you sick?

Sho:

Yeah, I've caught a bad cold.

Ai:

Oh, no! Have you taken your temperature?

Sho:

Not yet. I took some cold medicine this morning, but I actually feel worse now.

Ai:

That's not good! Maybe you should go to the doctor. I'm worried that it's not a cold. You might have the flu. Have you gotten the flu shot?

Sho:

No. But I'll go to the doctor after work.

Ai:

After work? Sho, you shouldn't be at work when you're sick. Go to the doctor now.

Sho:

Oh, okay… Sorry.

Ai:

I hope you get better soon. Remember, the annual checkup is next week.

Sho:

Thanks, Ai!
TRIVIA
Before 2020, the Japanese custom of wearing a face mask in public was very surprising to many foreigners. Masks were not that common overseas. In many countries, only doctors, dentists, and nurses wore a mask while at work.
2020年以前は、日本人が公の場でマスクをする習慣に、多くの外国人はとても驚いていました。海外ではマスクをすることは一般的ではありませんでした。多くの国では、医師や歯科医、看護師だけが仕事でマスクをしていました。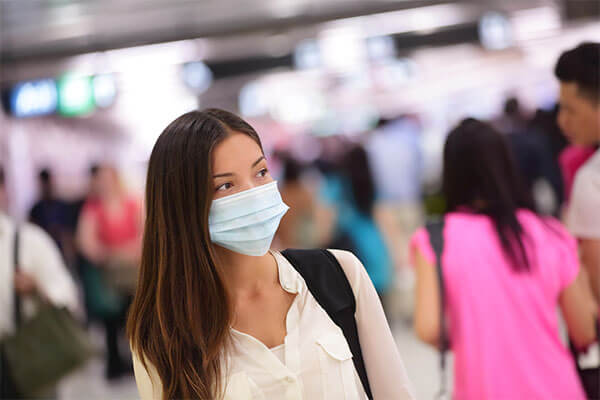 PRACTICE
STEP A EXERCISE
Change the verbs in parentheses into present perfect forms.
カッコの動詞を現在完了形に変えましょう。
Patrick (get) _____ the flu shot.
(take) _____ you _____ medicine for your headache?
I (gargle) _____ with warm water twice already.
(go) _____ Betty _____ to the doctor?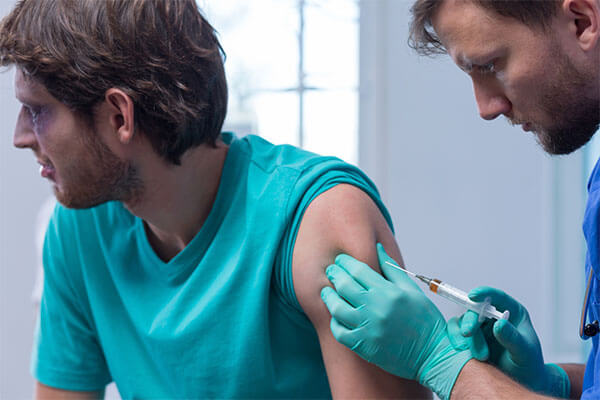 STEP B EXERCISE
Are the underlined parts grammatically correct? If not, correct them.
下線部は文法的に正しいですか?もし正しくなければ、正しましょう。
I haven't eaten many fruits and vegetables lately.
Have you taked vitamin C?
My husband has catched a bad cold.
Have Jenny gone to the doctor?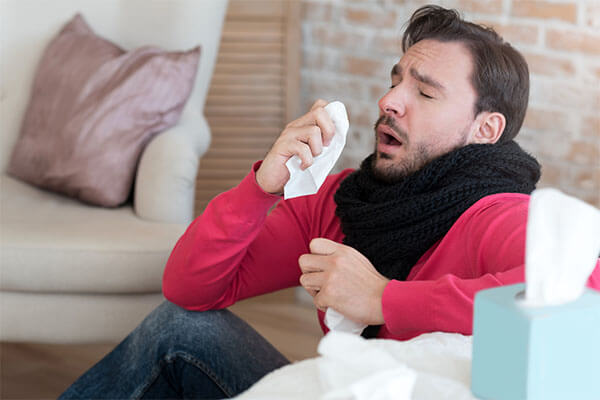 CHALLENGE
Challenge 1
You are talking to your friend on the phone. Your friend doesn't feel well.
あなたは電話で友達と話をしています。友達は具合がよくないようです。
Ask what he/she has done to feel better. Then, give him/her some advice.
具合が良くなるためにしたことを彼/彼女に聞きましょう。それから、彼/彼女にアドバイスをしましょう。
Today's grammar tip
Challenge 2
Discuss your ideas. あなたの意見を言いましょう。

If Time
Allows
1

WHEN SOMEONE IS SICK

2

TAKING MEDICINE

3

FACE MASKS

When was the last time someone in your family got sick?
What kind of sickness did he/she have?
Have you ever taken care of someone who was sick?
When you're sick, do you want someone to take care of you, or do you prefer to be alone?

If you have a headache, do you always take medicine?
Do you think Chinese herbs are better than medicine?
Is medicine in Japan cheap or expensive?
Should a sick person take medicine without a doctor's advice?

What do you think about face masks with designs?
Have you ever made your own face mask?
Do you think that very young children (ex. 3 years old) should wear face masks?
Other than for health, what are some other common reasons that people wear face masks?
FEEDBACK
I can ask what a sick person has done to feel better.
具合が良くなるために何をしたかを病人に尋ねられるようになる。
LESSON GOAL ACHIEVEMENT
4


Very Good

Could complete the task with ease

3


Good

Could complete the task with some clarifications

2


Fair

Could complete the task with additional instructions

1


Poor

Could somehow complete the task with difficulty
PERSONALIZED FEEDBACK
RANGE 表現の幅
語彙をどの程度使えるか
ACCURACY 正確さ
文法が正しく使えているかどうか
FLUENCY 流暢さ
円滑に喋ることができるかどうか