INTRODUCE
You can give detailed directions to help foreign tourists reach their destination.外国人観光客が目的地へ行けるように、詳しい道案内ができるようになります。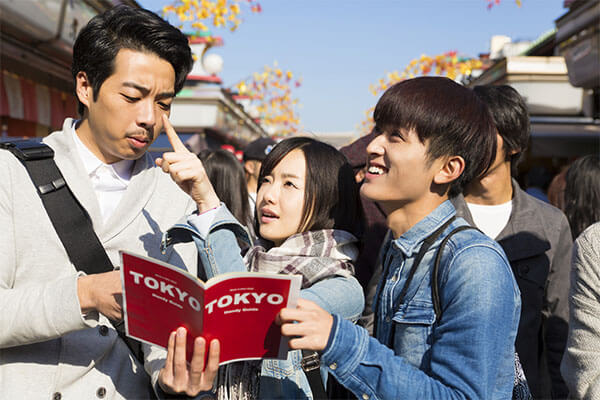 PRESENT
STEP A VOCABULARY
I. Listen and repeat.聴いて、リピートしましょう。
| | |
| --- | --- |
| alley路地 | main street大通り |
| sidewalk歩道 | footbridge歩道橋 |
| construction zone工事区域 | parking lot駐車場 |
II. Which of the things above do you see when you go to the following places?上記のうち、あなたが下記の場所に行く時に見えるのはどれですか?
the mall

City Hall

the park
III. Practice reading the words.単語を読む練習をしましょう。
/ŋ/

/n/

parking

駐車

bearskin

熊の毛皮

sing

歌う

sin

罪

fang

きば

fan

扇風機・うちわ
STEP B GRAMMAR TIP
Use towards, away from, through, past, across, along, up, and down to talk about the direction of movement.
towards、 away from、 through、 past、 across、along、 up、 downを使って、道案内ができます。
| | |
| --- | --- |
| towards | away from |

Walk away from the building.
| | |
| --- | --- |
| through | past |
| | |
| --- | --- |
| across | along |
| | |
| --- | --- |
| walk up | walk down |
UNDERSTAND
SPEAKING
It's time for Daniel to go back to the US. He's talking with Tim and Sho in the breakroom.
ダニエルがアメリカに帰国する時がきました。彼は、休憩室でティム、ショウと話しています。
Tim:

It was nice working with you, Daniel. Have a safe trip back to New York.

Daniel:

Thanks. It was great working with all of you too. Anyway, I've got to go, or I'll be late for my flight. Uh, how do I get to the airport again?

Tim:

Take the monorail. The station is close, but the entrance is kind of hard to see because it's a construction zone right now. Walk towards the regular train station, but go across the footbridge and then past the convenience store. You'll see a small sign for the monorail station.

Daniel:

I'll try to remember all that. (laughs) Anyway, thanks for your help. I'm really looking forward to seeing you guys during my next business trip here.

Sho:

Unfortunately, I won't be here the next time you come back.

Daniel:

What do you mean?

Sho:

I'm quitting at the end of the month. I've decided to do volunteer work in Brazil for a year!
TRIVIA
In 2016, Haneda International Airport was ranked the 4th best international airport in the world. Chubu Centrair International Airport in Nagoya was ranked 6th.
2016年、羽田空港が世界のベスト国際空港の第4位にランクインしました。名古屋の中部国際空港は第6位でした。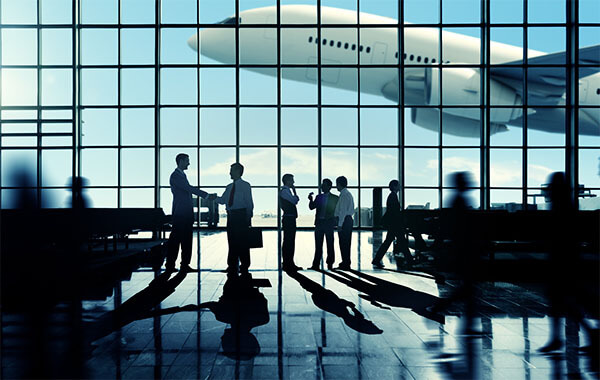 PRACTICE
STEP A EXERCISE
Choose the correct words in the parentheses. Use the pictures as clues.
写真をヒントにし、カッコの中から正しい単語を選びましょう。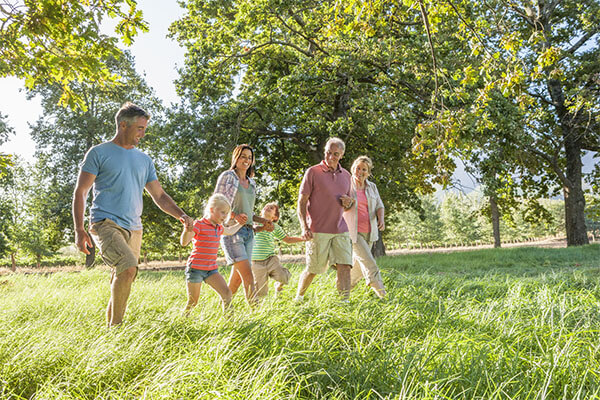 1. They're walking (across / past) the field.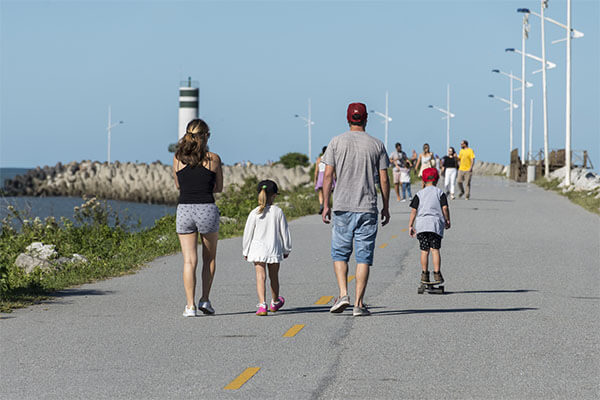 2. They're walking (down / away from) the street.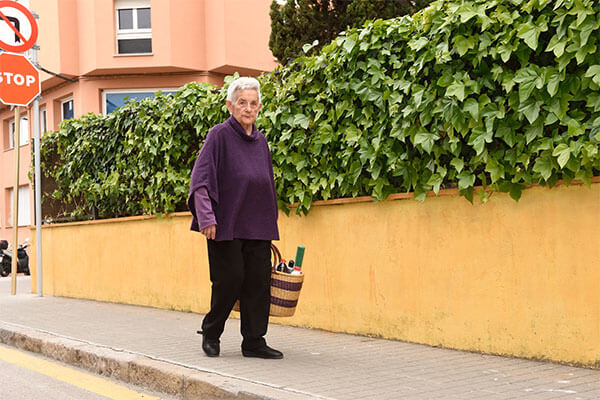 3. She walked (past / across) the stop sign.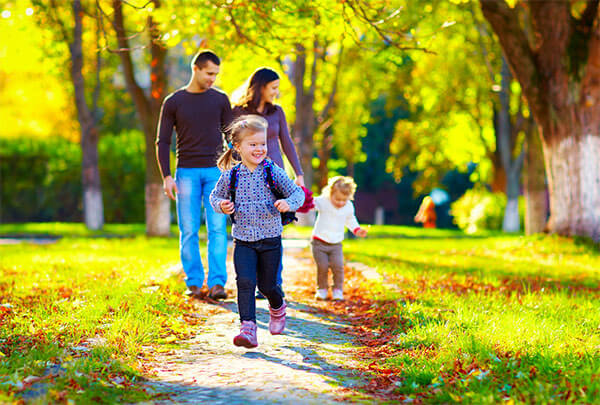 4. They're walking (along / through) the path.
STEP B EXERCISE
Your friend wants to know how to get to the station from your apartment. Give her directions using the words in the box and the pictures.
友達があなたの家から駅までの行き方を知りたがっています。写真とボックスの単語を使って、道案内をしましょう。
towards
along
through
across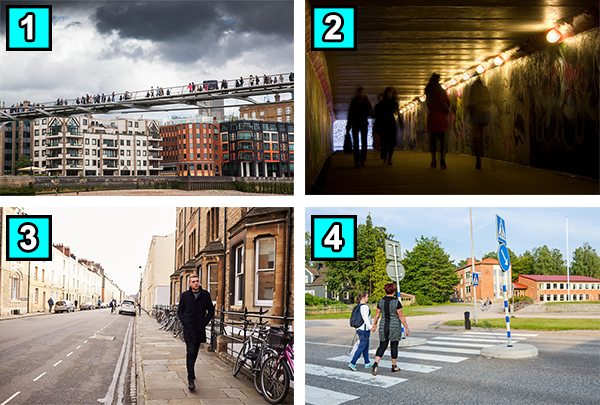 Walk _____ the footbridge and turn left. You'll see a tunnel.
Go _____ the tunnel. When you come out, you'll see the main street.
Walk _____ the main street until you see a school on your right side.
Go _____ the school. The station is behind it.
CHALLENGE
Challenge 1
Your foreign friend is staying at your house. He/She needs to run some errands.
外国人の友達があなたの家に泊まっています。彼/彼女はお使いに行く必要があります。
Give him/her directions.
Today's grammar tip
towards
away from
across
along
past
through
up
down
Challenge 2
Discuss your ideas. あなたの意見を言いましょう。

If Time
Allows
1

GIVING DIRECTIONS

2

GETTING TO YOUR DESTINATION

3

AIRPORTS

When was the last time you gave directions?
Do you feel comfortable giving directions in English?
Is it important to be detailed when giving directions?
Imagine you're in a hurry and someone asks you for directions. Will you help them?

2

GETTING TO YOUR DESTINATION

Do you usually ask people for help when you get lost?
Which do you think is more reliable for directions, people or GPS?
When you are in a new place, do you prefer to take public transportation or walk?
Can you remember spoken directions, or do you have to write everything down?

Which airport is closest to your house?
How do you get there?
Do you think airport locations in Japan are convenient?
How do people usually get to the airport in Japan?
FEEDBACK
I can give detailed directions.
詳しい道案内ができるようになる。
LESSON GOAL ACHIEVEMENT
4


Very Good

Could complete the task with ease

3


Good

Could complete the task with some clarifications

2


Fair

Could complete the task with additional instructions

1


Poor

Could somehow complete the task with difficulty
PERSONALIZED FEEDBACK
RANGE 表現の幅
語彙をどの程度使えるか
ACCURACY 正確さ
文法が正しく使えているかどうか
FLUENCY 流暢さ
円滑に喋ることができるかどうか