INTRODUCE
Before going on a trip abroad, it's best to research how safe your destination is. 海外旅行へ行く前に、行先が安全であるかを調べることが大切です。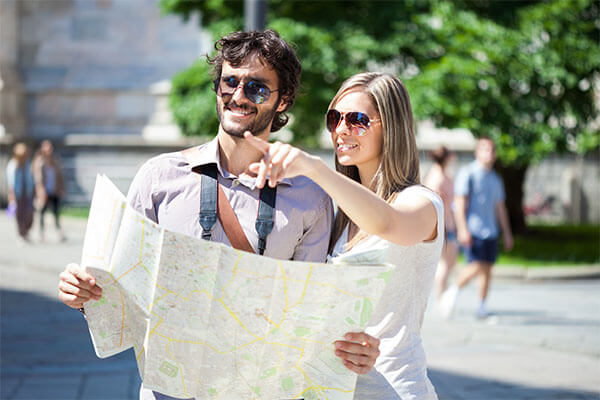 PRESENT
STEP A VOCABULARY
I. Listen and repeat.聴いて、リピートしましょう。
| | |
| --- | --- |
| a pickpocketスリに合う | a purse-snatcher財布(バッグ)のひったくり |
| a scammer詐欺師 | a beggarこじき |
| a gang memberギャングの一員 | a carjacker乗っ取り屋 |
II. Which of the risks above do you think are the scariest?上記のリスクのうち、一番怖いのはどれだと思いますか?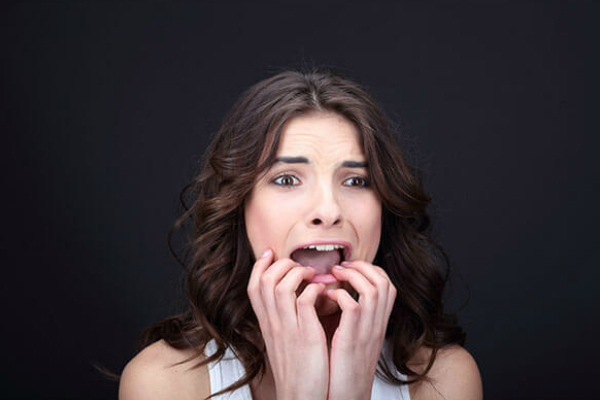 III. Practice reading the words.単語を読む練習をしましょう。
/g/

/h/

gang

ギャング

hang

掛ける・つるす

got

getの過去形

hot

暑い・熱い

gate

門

hate

ひどく嫌う
STEP B GRAMMAR TIP
Phrasal verbs are two-part verbs that have both a verb and a preposition or adverb.
句動詞とは、動詞と前置詞または副詞の2語からなる動詞です。
The meaning of phrasal verbs is often very different from the meaning of the original verbs.

句動詞の意味は、元々の動詞の意味と全く違うことがあります。

| | |
| --- | --- |
| Jim got some water. | get = to receive/buy |
| The pickpocket got away from the police officer. | get away = to escape |
It can be difficult to guess the meaning of phrasal verbs, so it is best to memorize them.

句動詞の意味を想像するのは困難なので、意味を暗記するのが得策です。

| | |
| --- | --- |
| stay away | to not go near someone or something |
| break into | to enter by force |
| watch out | to be careful |
| come across | to meet someone or something accidentally |
| look out | to carefully watch for someone or something |
| look after | to take care of someone or something |
| run away | to leave or escape |
| show up | to appear |

Children should stay away from strangers.

Please watch out for falling objects.
UNDERSTAND
READING
Sho and Tim are reading a travel advisory that they found in their hotel room.
ショウとティムは、ホテルの部屋にあった旅行者向け勧告を読んでいます。
Travel Warning
The government of Brazil would like to remind tourists to watch out for possible safety risks that they may come across when traveling in Brazil. Due to high crime rates and regular incidents of street violence, the government encourages tourists to stay away from favelas, where gang members are known to have gun battles.
The government also advises tourists to look out for pickpockets and purse-snatchers. It is best to keep passports in a safe rather than to carry them in a bag. Tourists are encouraged to stay in safe areas and to look after their personal belongings.
For more information, contact Brazil's Ministry of Tourism.
TRIVIA
A common mistake that Japanese speakers make is using safety as an adjective. The word safety is actually a noun; the adjective form is safe.
X Japan is a safety country.
O Japan is a safe country.
日本人がよくする間違いに、「safety」を形容詞として使用するというのがあります。「safety」という単語は名詞であり、形容詞は「safe」です。
X 日本は安全国です。
O 日本は安全な国です。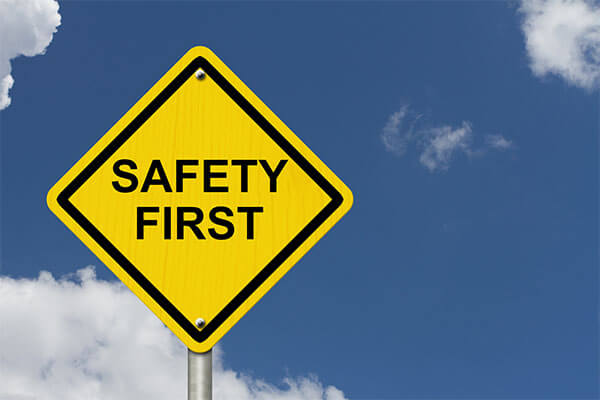 PRACTICE
STEP A EXERCISE
Fill in the blanks using the words in the box.
ボックスの単語を使って、空欄を埋めましょう。
watch out
break into
get away
show up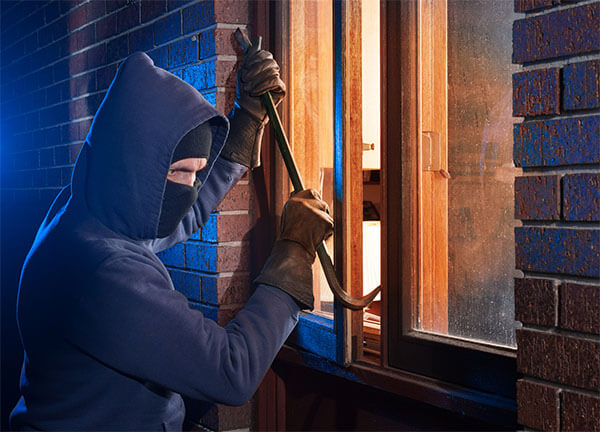 1. Make sure to lock your doors and windows. Someone might _____ your apartment.
2. Scammers who pretend to be beggars usually _____ in tourist spots.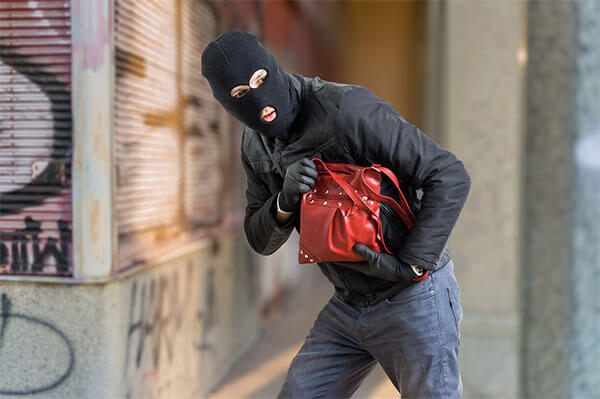 3. Help! A man snatched my bag and he's trying to _____!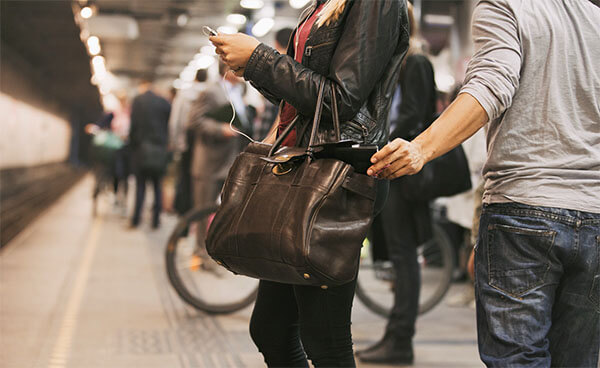 4. You have to _____ for pickpockets in crowded areas.
STEP B EXERCISE
Choose the correct words in the parentheses. Use the pictures as clues.
カッコの中から正しい単語を選びましょう。写真をヒントにしましょう。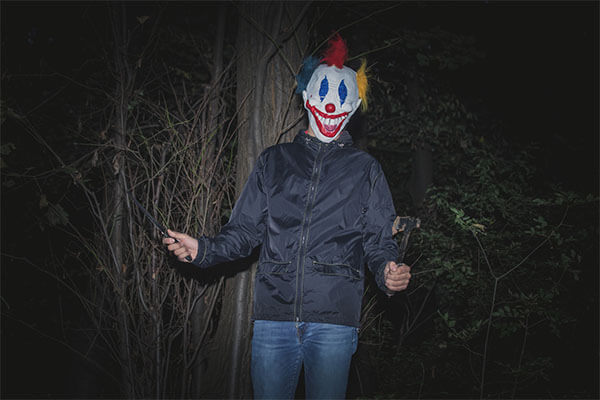 1. You don't want to come (out / up / across) him at night.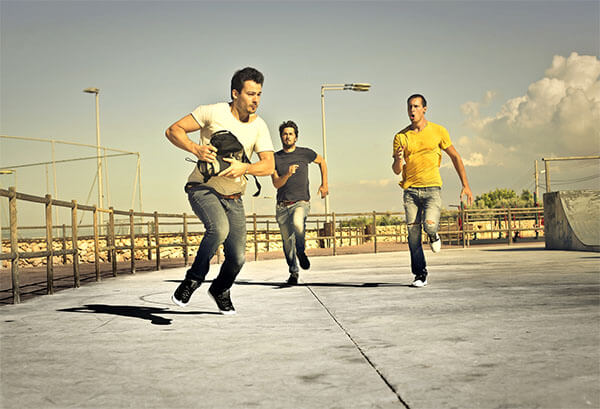 2. Run (to / away / after) if you feel you are in danger.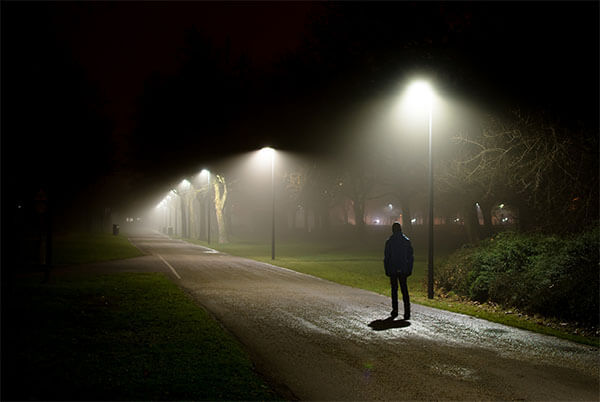 3. Avoid walking alone at night and look (out / in / at) for possible danger.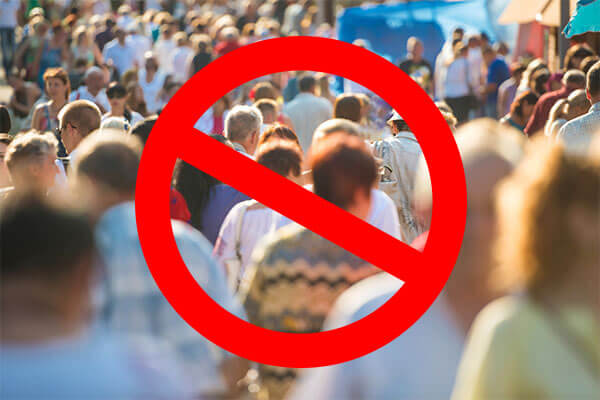 4. Stay (in / after / away) from crowded places to avoid pickpockets.
CHALLENGE
Challenge 1
You and your friend are going to travel to Brazil. While browsing a tourism website, you found a travel advisory about the country.
あなたと友達はブラジルに旅行に行きます。旅行会社のサイトを見ていると、旅行者向け勧告を見つけました。
Read the travel advisory. Then, tell your friend about it.
Today's grammar tip
Brazil Travel Advisory
The government of Japan would like to remind its citizens about the risk of traveling to Brazil due to violent crimes and civil protests.
In Brazil, a number of foreigners have become the victims of crimes such as armed robberies, carjackings, and kidnappings. We advise Japanese tourists to watch out for criminals and stay away from isolated areas. Because scammers are common in Brazil, it's best to travel as part of an organized tour.
Also, Japanese travelers are advised to immediately leave an area when they come across protesters due to a high risk of accidental injury.
In case of emergency, contact the Japanese Embassy in Brasilia.
Challenge 2
Discuss your ideas. あなたの意見を言いましょう。

If Time
Allows
1

TRAVEL ADVISORIES

2

TRAVEL RISKS

3

TRAVEL SAFETY

Do you usually read travel advisories?
What information do travel advisories usually contain?
Is it important to be aware of travel advisories?
Have you ever traveled to a country with a travel advisory?

What are some possible dangers when traveling to foreign countries?
How can tourists avoid these dangers?
Have you ever encountered any of these dangers while traveling?
Who should tourists ask for help when they feel that they're in danger?

Do you think it's safer to travel by land, water, or air?
Do you think about your safety when you make travel plans?
What do you do to be safe during your travels?
Do you think it's safer to travel alone or with a group?
FEEDBACK
I can read and understand a travel advisory.
旅行者向け勧告を読んで理解できるようなる。
LESSON GOAL ACHIEVEMENT
4


Very Good

Could complete the task with ease

3


Good

Could complete the task with some clarifications

2


Fair

Could complete the task with additional instructions

1


Poor

Could somehow complete the task with difficulty
PERSONALIZED FEEDBACK
RANGE 表現の幅
語彙をどの程度使えるか
ACCURACY 正確さ
文法が正しく使えているかどうか
FLUENCY 流暢さ
円滑に喋ることができるかどうか