INTRODUCE
Many countries have unique foods. Listening to a description of them will help you understand what they are.海外には多くの独特な食べ物があります。どんなものかを理解するには、それについての説明を聞くことが大切です。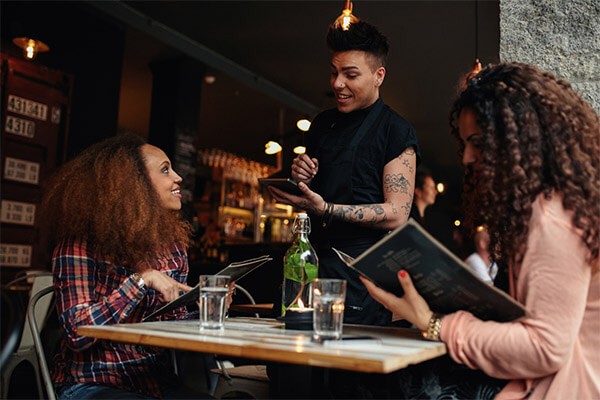 PRESENT
STEP A VOCABULARY
I. Listen and repeat.聴いて、リピートしましょう。
| | |
| --- | --- |
| smoke燻製にする | stir-fry強火で炒める |
| slice切る | sprinkleふりかける |
| simmerとろ火で煮る | boil茹でる |
II. What's your favorite dish? Which of the things above do you do to make it?あなたの好きな食べ物は何ですか?その好きな食べ物を作るのに上記のどの調理方法を使いますか?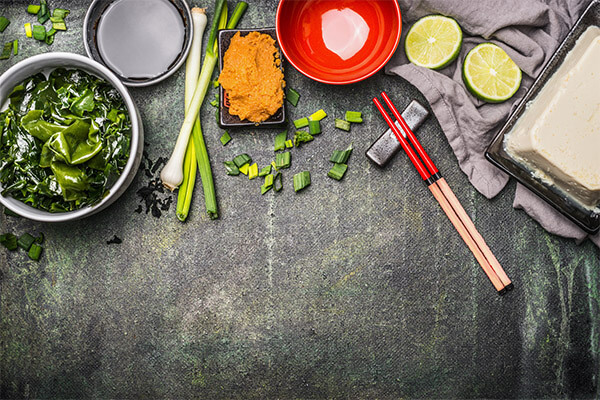 III. Practice reading the words.単語を読む練習をしましょう。
/st/

/sp/

stir-fry

強火で炒める

sprinkle

ふりかける

street

道

spit

(つばなどを)吐く

stout

じょうぶな

spout

吹き出す
STEP B GRAMMAR TIP
Change verbs into their past participle form to use them as adjectives.
動詞を過去分詞にすることで、形容詞的な働きをします。
You can change most verbs into their past participle form by adding -ed or -d. Remember to change y to i when writing.

ほとんどの動詞は語尾に-edもしくは-dを加えることで過去分詞に変えられます。yで終わる動詞はiに置き換えることを忘れないようにしましょう。

| REGULAR VERB | PAST PARTICIPLE |
| --- | --- |
| smoke | smoked |

The Bracks serves the best smoked ribs in the country.

ブラックスはこの国で最も美味しい燻製リブを提供します。

My favorite Chinese dish is stir-fried noodles.
Some verbs have irregular past participle forms.

いくつかの動詞は不規則動詞になります。

| IRREGULAR VERB | PAST PARTICIPLE |
| --- | --- |
| freeze | frozen |

I bought frozen meat at the supermarket.

The waiter served us burnt chicken!
UNDERSTAND
LISTENING
While on vacation in Thailand with her husband Jake, Ai got a voicemail from her coworker Sho back in Japan.
タイで夫のジェイクと休日を過ごしている間、アイは日本にいる同僚のショーから留守電メッセージを受け取りました。
TRIVIA
In Japan, it's common for people to buy omiyage for their coworkers when they go on a trip, but this custom does not exist in many other countries. In the West, for example, people buy souvenirs for themselves to remember a trip. In fact, the word souvenir means to remember in French.
日本では、旅行に行くと同僚にお土産を買って帰りますが、この習慣は他の国にはありません。例えば、欧米では、旅行のことを思い出すために、自分用にお土産を買います。実は、フランス語で、「souvenir」は、「思い出す」という意味です。
PRACTICE
STEP A EXERCISE
Fill in the blanks. Change the underlined verbs into past participle forms.
下線部の単語を過去分詞に変えて空欄を埋めましょう。
ex. They simmer chicken in coconut milk to make tom kha gai.
→ Tom kha gai is simmered chicken in coconut milk.
1. They stir-fry the noodles to make pad thai.
→ Pad thai is _____ noodles.
2. The chef will slice some tomatoes for the yam kai dao.
→ Yam kai dao is served with _____ tomatoes.
3. They deep-fry oysters to make hoy tod.
→ Hoy tod uses _____ oysters.
4. This is a Thai-style omelette that you can sprinkle with cheese.
→ This Thai-style omelette tastes good with _____ cheese.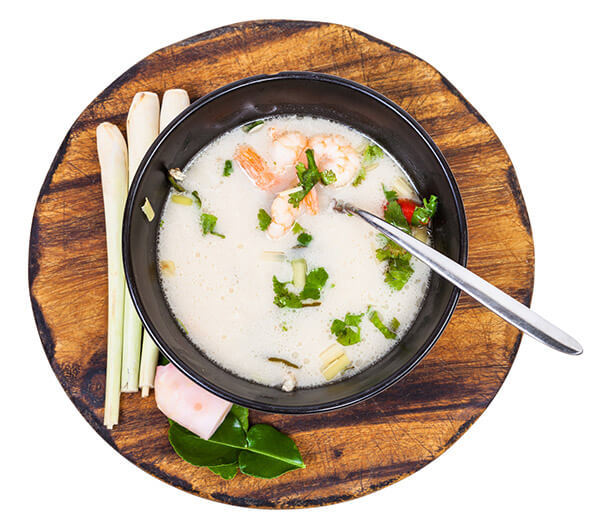 STEP B EXERCISE
Today is Wednesday. Answer the questions using Miki's weekly menu.
今日は水曜日です。ミキの今週の献立をヒントにして質問に答えましょう。
| Mon | Tue | Wed |
| --- | --- | --- |
| (smoke) | (grill) | (boil) |
| Thur | Fri | Sat |
| --- | --- | --- |
| (mash) | (fry) | (slice) |
What is Miki going to make today?
What did she have on Monday?
What is she going to have on Thursday?
What is she going to eat on Saturday?
CHALLENGE
Challenge 1
Listen to your friend talk about some dishes that he/she ate at a Thai restaurant.
友達がタイ料理屋で食べた料理についての話を聞きましょう。
Then, go to the restaurant and try to order the same dishes.
それから、そのレストランに行って、同じものを注文してみましょう。
Today's grammar tip
past participle adjectives
Challenge 2
Discuss your ideas. あなたの意見を言いましょう。

If Time
Allows
1

COOKING

2

OMIYAGE AND SOUVENIRS

3

FOREIGN FOOD

When was the last time you cooked?
What kind of cooking is common in Japan (ex. boiling, smoking)?
What Japanese dish do you think is hard to cook?
What was the most delicious dish you've ever cooked? Describe it.

What kind of souvenirs do you usually buy for yourself?
Do you always look forward to omiyage from friends or coworkers?
Have you ever received omiyage that you didn't like? What was it?
What omiyage are popular in your hometown?

What foreign dish do you want to try?
What's your favorite foreign dish?
What foreign dishes do you dislike?
Which do you eat more, Japanese food or foreign food?
FEEDBACK
I can listen to and understand a description of food.
食べ物の説明を聞いて理解できるようになる。
LESSON GOAL ACHIEVEMENT
4


Very Good

Could complete the task with ease

3


Good

Could complete the task with some clarifications

2


Fair

Could complete the task with additional instructions

1


Poor

Could somehow complete the task with difficulty
PERSONALIZED FEEDBACK
RANGE 表現の幅
語彙をどの程度使えるか
ACCURACY 正確さ
文法が正しく使えているかどうか
FLUENCY 流暢さ
円滑に喋ることができるかどうか