INTRODUCE
Talking about celebrities and their fans is a great way to start a conversation.有名人やそのファンについて話すことは、会話を始める良いきかっけになります。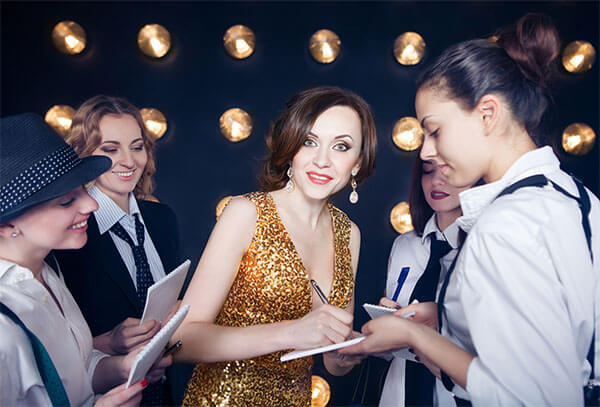 PRESENT
STEP A VOCABULARY
I. Listen and repeat.聴いて、リピートしましょう。
| | |
| --- | --- |
| a big crowd | lots of peopleたくさんの人 |
| fan club membersファンクラブのメンバー | a celebrity有名人 |
| a boy/girl bandバンド | paparazziパパラッチ(報道陣) |
II. Which of the things above do you usually see at a concert? Choose two or three.上記のうち、コンサートでよく見かけるものはどれですか?2つか3つ選びましょう。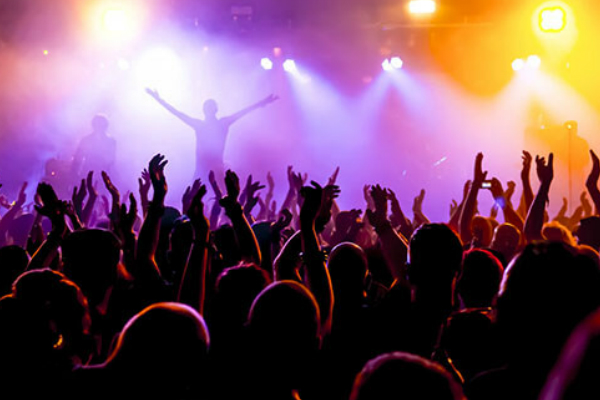 III. Practice reading the words.単語を読む練習をしましょう。
/s/

/k/

celebrity

有名人

crowd

Cebu

セブ

club

クラブ

city

町

camera

カメラ
STEP B GRAMMAR TIP
Use there is and there are to say that someone or something exists.
there is または there areを使って、「誰かがいます」「何かがあります」と表すことができます。
Use there is with singular nouns and collective nouns.

名詞の単数形と集合名詞にはthere isを使います。

| SINGULAR NOUNS | COLLECTIVE NOUNS |
| --- | --- |
| a celebrity | a crowd |

Use there are with plural nouns.

名詞の複数形にはthere areを使います。

PLURAL NOUNS

fan club members

paparazzi

There's a celebrity at our hotel.

There's a big crowd at the buffet.

There are more than a hundred fan club members now.

There are paparazzi outside the restaurant.
UNDERSTAND
SPEAKING
Daiki is having dinner with his Indian coworker Amil at a restaurant in Mumbai.
ダイキはインド人の同僚のアミールと、ムンバイのレストランで夕食を取っています。
Daiki:

Wow! There's a big crowd over there. What's that about?

Amil:

Ah, that's because there's a Bollywood celebrity in that café. Her name's Tara Vel. Do you know her?

Daiki:

No. But that explains why there are paparazzi on the street. She must be really popular.

Amil:

Yeah, she is. She has a fan club with over 200,000 members. Half of the guys in our office are members!

Daiki:

Oh, they're just like my wife, Yuki. She belongs to a fan club for a K-pop star. There are about 5,000 members in the club, and she's the vice president. She's really crazy about him. Sometimes I think she loves him more than me!

Amil:

(laughs) Don't worry. I'm sure she loves you more!
TRIVIA
Bollywood is the nickname of India's Hindi film industry. Every year, Bollywood makes between 1,500 and 2,000 movies. That's more than the number of Hollywood movies released every year!
ボリウッドはインド映画産業の俗称です。ボリウッドは毎年1,500から2,000もの映画を製作しています。その数は、毎年リリースされるハリウッド映画の数より多いです。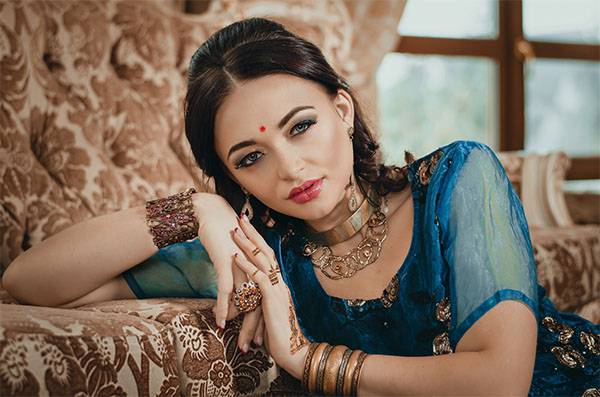 PRACTICE
STEP A EXERCISE
Choose the correct word in the parentheses.
カッコ内から正しい単語を選びましょう。
There (is / are) a boy band on TV.
There (is / are) lots of people waiting for the show to start.
There (is / are) a big crowd outside the theater.
There (is / are) fan club members taking pictures with the boy band.
There (is / are) paparazzi following the celebrity.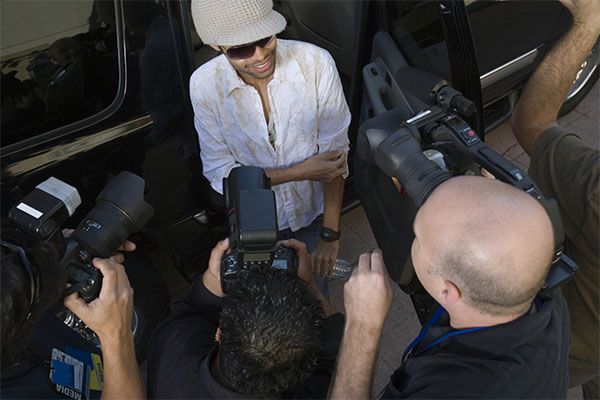 STEP B EXERCISE
Complete the sentences with there's or there are.
there's または there areを使って文を完成させましょう。
1.
Tutor:         Do you know why it's noisy outside?
Student:    __________ a girl band outside.
2.
Tutor:        Why is that celebrity hiding her face?
Student:    I think __________ paparazzi.
3.
Tutor:         Is he pretty popular?
Student:    Yeah, __________ more than 5,000 members in his fan club!

CHALLENGE
Challenge 1
You're having coffee with your foreign friend who loves to talk about celebrities.
あなたは、有名人について話すのが好きな外国人の友達とコーヒーを飲んでいます。
Answer his/her questions.
Today's grammar tip
Challenge 2
Discuss your ideas. あなたの意見を言いましょう。

If Time
Allows
1

POPULARITY

2

PAPARAZZI

3

FAN CLUBS

Who's the most popular celebrity in Japan?
Why is that celebrity so popular?
How long has that celebrity been popular?
Do you want to become popular?

Have you ever seen paparazzi?
Do you think paparazzi should follow celebrities everywhere?
Do you think paparazzi should sell celebrity secrets to magazines and TV shows?
How can celebrities avoid paparazzi?

Who do you think has the biggest fan club in Japan?
What activities do fan clubs usually do?
Why do people join fan clubs?
Is it common for men to join fan clubs?
FEEDBACK
I can talk about fans.
ファンについて話せるようになる。
LESSON GOAL ACHIEVEMENT
4


Very Good

Could complete the task with ease

3


Good

Could complete the task with some clarifications

2


Fair

Could complete the task with additional instructions

1


Poor

Could somehow complete the task with difficulty
PERSONALIZED FEEDBACK
RANGE 表現の幅
語彙をどの程度使えるか
ACCURACY 正確さ
文法が正しく使えているかどうか
FLUENCY 流暢さ
円滑に喋ることができるかどうか