INTRODUCE
People usually want to know more about other people's family members before meeting them in person. 他人の家族に会う前は、その家族についてもっと知りたいと思うものです。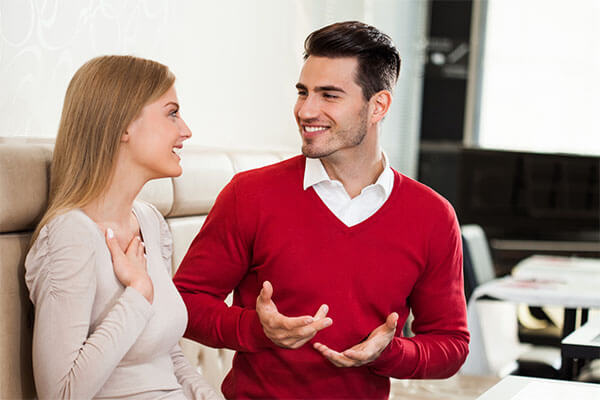 PRESENT
STEP A VOCABULARY
I. Listen and repeat.聴いて、リピートしましょう。
| | |
| --- | --- |
| nice優しい・素敵な | stressfulストレスが多い |
| exciting楽しい | amazing驚くほどの |
| interesting面白い | fantasticすばらしい |
II. Match the activities below and the adjectives above. Choose one or two adjectives for each activity.次の行動と上記の形容詞を組み合わせましょう。それぞれ1つか2つ選びましょう。
cooking

cleaning

watching a movie
III. Practice reading the words.単語を読む練習をしましょう。
/ŋ/

/n/

amazing

驚くほどの

mason

れんが職人

boring

退屈な

barren

不毛な

gong

ゴング・どら

gone

goの過去分詞
STEP B GRAMMAR TIP
Use seem, sound, taste, feel, and smell with adjectives to describe people and things.
動詞seem, sound, taste, feel, smellと形容詞を使って、人や物を説明することができます。
My new neighbor seems nice.

That class sounds boring.

This ramen tastes amazing.

Your perfume smells fantastic.
UNDERSTAND
READING
After dating Lorenzo for a month, Haru received a surprising text message from him.
ロレンゾと一か月付き合った頃、ハルは彼からびっくりするメッセージを受け取りました。
Lorenzo: Guess what! My parents are inviting you for dinner this weekend.
Haru: Dinner with your parents? I'm not sure… It seems early.
Lorenzo: Yeah, but they really want to meet you.
Haru: But what if they don't like me?
Lorenzo: I'm sure they'll like you! Don't feel nervous. Mom said she'll cook her special pasta. You'll love it. It tastes amazing.
Haru: I don't know, Lorenzo…
Lorenzo: Come on! You'll have fun with them, especially my dad. He's so funny. You'll love his jokes.
Haru: Your family sounds really nice. Okay, then. Dinner sounds fun.
TRIVIA
In Western countries, meeting your girlfriend or boyfriend's parents has no special meaning. In Japan, it traditionally means that the couple is going to get married soon, but many Westerners introduce their partner to their parents just like they introduce their friends.
欧米では、ガールフレンドやボーイフレンドの両親に会うことは、特別な意味を持ちません。日本では、伝統的にはもうすぐそのカップルは結婚することを意味しますが、欧米では、友達を紹介するのと同じ感覚で、彼や彼女を両親に紹介します。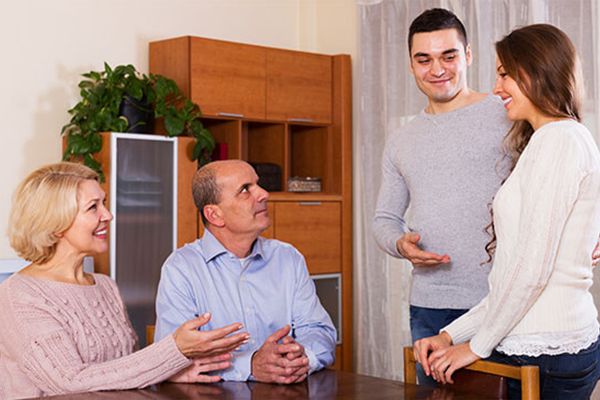 PRACTICE
STEP A EXERCISE
Choose the correct answer.
正しい答えを選びましょう。
1. Your brother _____ really friendly.
    a. seems
    b. tastes
2. I _____ fantastic after taking a vacation.
    a. smell
    b. feel
3. That meeting _____ stressful.
    a. tastes
    b. sounds
4. My new perfume _____ sweet.
    a. smells
    b. feels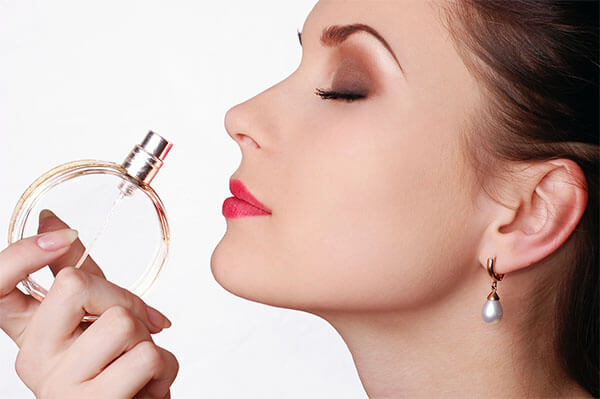 STEP B EXERCISE
Complete the conversation using the words in parentheses.
カッコの単語を使って会話を完成させましょう。
ex. (the brownies / smell / amazing) The brownies smelled amazing.
Tutor:

Hey, I heard that you met your girlfriend's brother last weekend.

Student:

Yeah.

Tutor:

So, what's he like?

Student:

(he / seem / interesting) __________. He's in a rock band. He plays the guitar.

Tutor:

Did you hear him play?

Student:

Yeah, he played a new song for us. (it / sound / fantastic) __________.

Tutor:

Cool! What else did you learn about him?

Student:

Well, he's also a good cook. He made us dinner. (his lasagna / taste / fantastic) __________.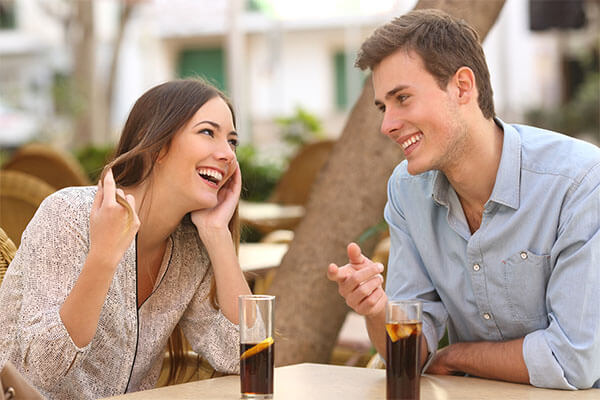 CHALLENGE
Challenge 1
Your roommate left you a note this morning.
Read the note. Then, talk to your friend about the note.
メモを読みましょう。それから、あなたの友達にその内容を伝えましょう。
Today's grammar tip
seem
sound
taste
feel
smell
Hey, I forgot to tell you: My parents are going to visit this weekend. I asked them to stay with us.
They're very nice, so I'm sure you'll love them. My mom's a great cook. She'll make dinner for us on Saturday. Her dishes always taste fantastic. My dad seems quiet at first, but he's really nice. He loves baseball, so maybe you can talk about Japanese baseball?
I know having visitors is stressful, but my parents are friendly. Please don't feel uncomfortable! See you later tonight.
– M.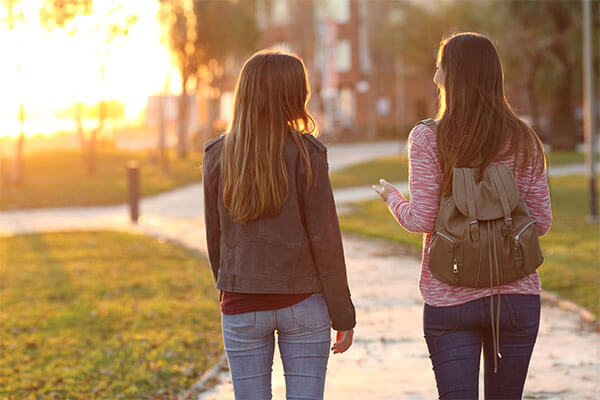 Challenge 2
Discuss your ideas. あなたの意見を言いましょう。

If Time
Allows
1

DESCRIPTIONS

2

FAMILY

3

SPECIAL DISHES

What do you think is stressful?
Who do you think is nice?
What do you think is exciting?
Who do you think is amazing?

Do you introduce your friends to your family?
Have you met your friends' families?
What are your family members like?
Who's your favorite family member?

Can you make any special dishes?
What's your mom's best dish?
What's the best dish at your favorite restaurant?
How does it taste/smell?
FEEDBACK
I can read and understand descriptions of people and actions.
人や行動の説明を読んで理解できるようになる。
LESSON GOAL ACHIEVEMENT
4


Very Good

Could complete the task with ease

3


Good

Could complete the task with some clarifications

2


Fair

Could complete the task with additional instructions

1


Poor

Could somehow complete the task with difficulty
PERSONALIZED FEEDBACK
RANGE 表現の幅
語彙をどの程度使えるか
ACCURACY 正確さ
文法が正しく使えているかどうか
FLUENCY 流暢さ
円滑に喋ることができるかどうか