INTRODUCE
It's fun to read people's stories about their pets. ペットのブログを読むのは、おもしろいです。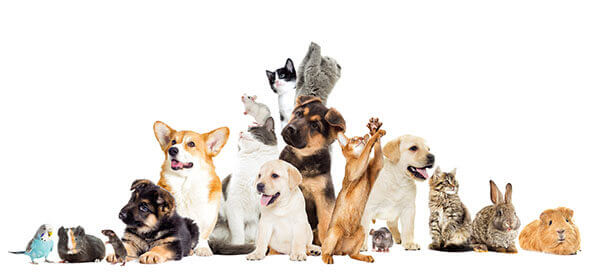 PRESENT
STEP A VOCABULARY
I. Listen and repeat.聴いて、リピートしましょう。
| | |
| --- | --- |
| do tricks芸をする | go for a walk散歩に行く |
| have a snackおやつを食べる | hide [thing][物]を隠す |
| take a nap昼寝をする | run around走り回る |
II. Which of the things above do you do?上記のうち、あなたはどれをしますか?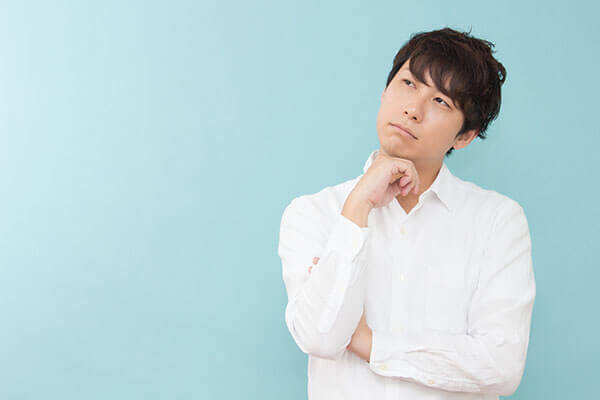 III. Practice reading the words.単語を読む練習をしましょう。
/æ/

/ɑ/

have

食べる・飼う

hop

軽く跳ぶ

nap

昼寝

not

~ない

snack

おやつ

stop

止まる
STEP B GRAMMAR TIP
Use the simple past tense to talk about actions that happened in the past.
過去形を使って、過去の出来事を話すことができます。
Many verbs take –d or –ed in simple past tense, but some verbs are irregular.

ほとんどの動詞の過去形は語尾に –d や –ed を付けますが、例外があります。

| PRESENT TENSE | PAST TENSE |
| --- | --- |
| go | went |

He went for a walk with his dogs yesterday.

They had breakfast together this morning.

My cat hid my slipper last night.

We did a lot of work last Friday.
UNDERSTAND
READING
Yohei is reading a new post on his favorite blog.
ヨウヘイは、お気に入りのブログの最新記事を読んでいます。
Buddy's Day Off
Monday, April 5
Last week, Buddy and I were really busy! We went to five different hospitals and played with sick children. They were so happy.
Yesterday, Buddy and I finally had a day off. First, we went for a walk. Then, we went to the park. Buddy ran around and played with the other dogs. Before dinner, we took a nap. It was a great day!
Question of the Day
Q: What kind of dog is Buddy?
A: Buddy is a mixed breed. We think he's part chihuahua.
TRIVIA
You can use the words purebred and mixed breed to talk about dogs. A purebred dog has parents that are the same breed (ex. Shiba Inu and Shiba Inu). A mixed breed dog has parents that are different breeds (ex. Siberian husky and Labrador retriever).
犬について話すとき、 「mixed breed」 や 「purebred」 という言葉を使うことができます。 「purebred」 とは、純血種のことで、同じ血統の犬を親に持つ犬種をさします。(例:柴犬同士の間に生まれた犬) 「mixed breed」 とは、雑種のことで、異なる血統の犬を親に持つ犬種をさします。(例:シベリアンハスキーとラブラドールレトリバーの間に生まれた犬)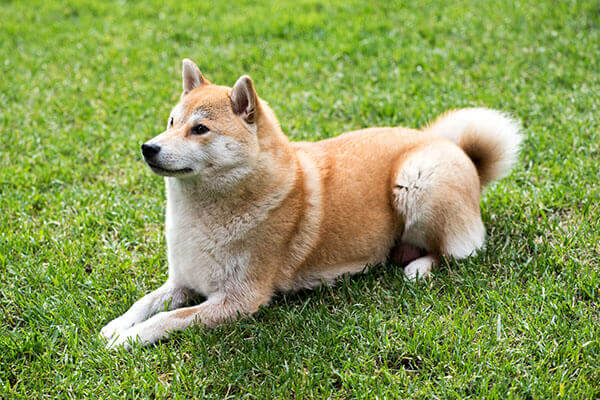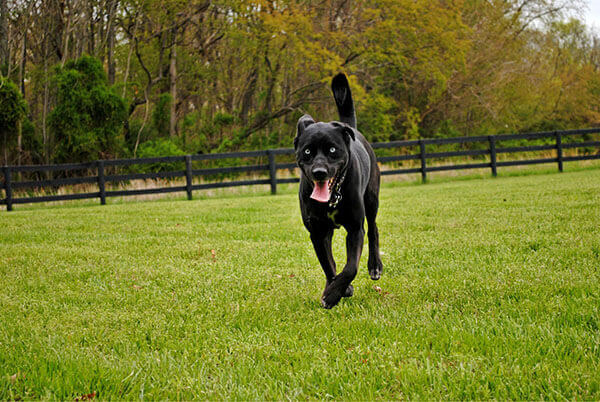 PRACTICE
STEP A EXERCISE
Change the underlined verbs into simple past tense.
下線部の動詞を過去形に変えましょう。
The bird does tricks.
He gives his hamster some carrots.
Their dogs run around the house.
My dog hides the ball behind the door.
We go to the park every day.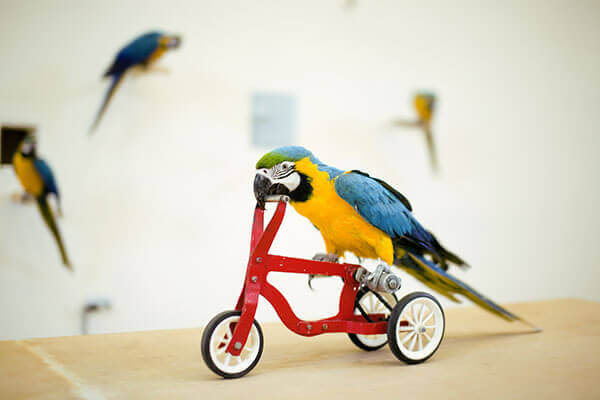 STEP B EXERCISE
Make simple past tense sentences using the pictures and the words in parentheses.
写真とカッコの単語を使って、過去形の文を作りましょう。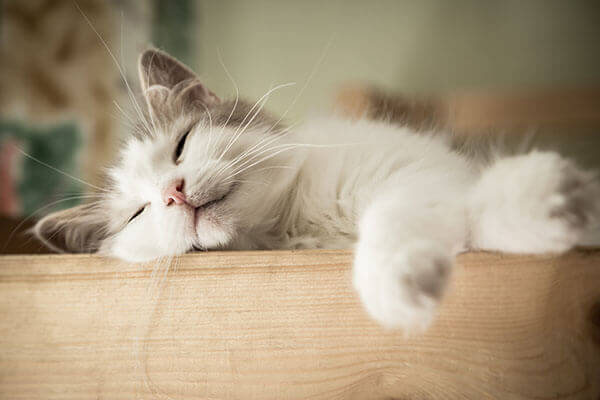 ex.  (my cat / take a nap)
→ My cat took a nap.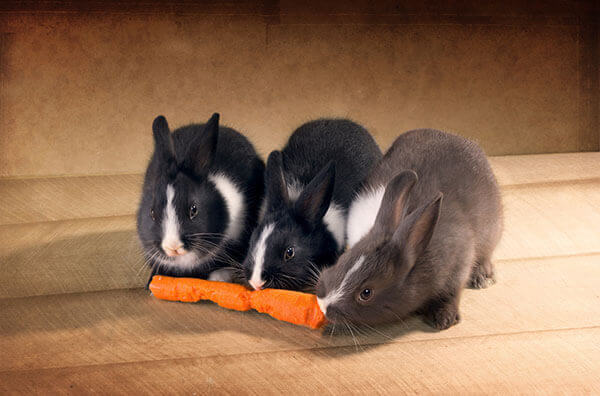 1. (the rabbits / eat the carrots)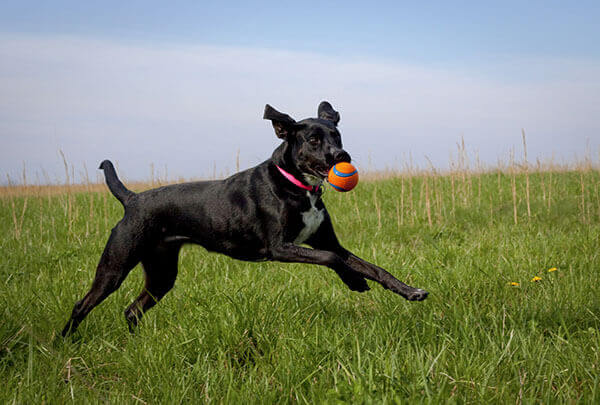 2. (the dog / catch the ball)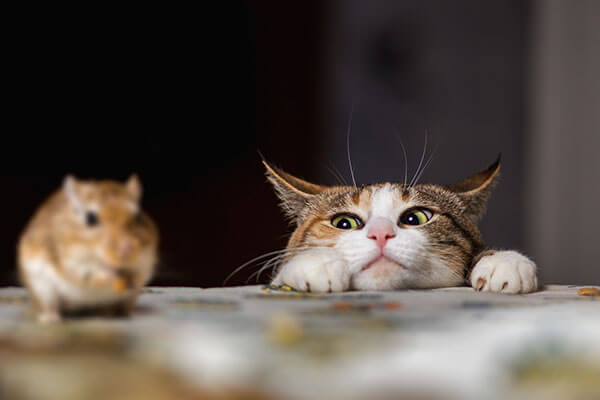 3. (the cat / see the hamster)
CHALLENGE
Challenge 1
You and your coworker like to read blogs about animals. You found a new blog about a dog.
あなたと同僚は、動物のブログを読むことが好きです。あなたは犬の新しいブログを見つけました。
Read the blog. Then, tell your coworker about it.
ブログを読みましょう。そして、同僚にその内容を伝えましょう。
Today's grammar tip
irregular simple past tense
---
My name is Bella. I'm a golden retriever living in Virginia.  My owner's name is Charlie.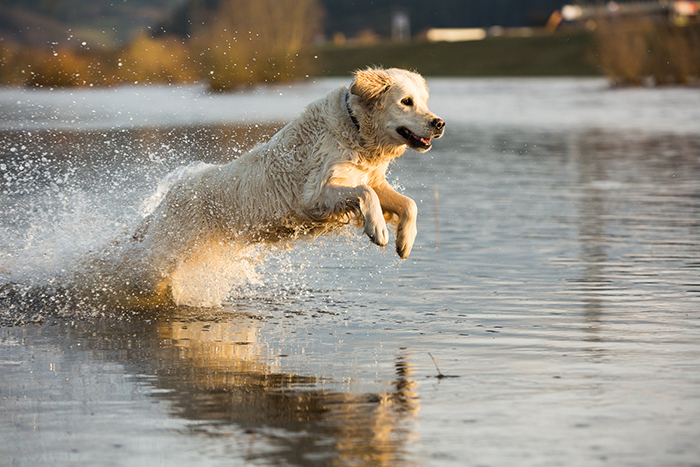 ---
Diary of a Dog
Friday, September 17
Yesterday, I had a nice day with Charlie. In the morning, we went hiking. It was hot, so I swam in the river. Then, Charlie and I went to a pet store. I saw lots of nice toys there. Charlie bought me a new ball. I played with it at home for a little. Then, I hid it under the sofa!
Challenge 2
Discuss your ideas. あなたの意見を言いましょう。

If Time
Allows
1

DOGS

2

PETS

What kind of dogs are popular in Japan?
What's your favorite kind of dog?
What names are good for dogs?
Are dogs safe or dangerous?

Do you have any pets?
What other pets are popular in Japan (ex. cats, birds, hamsters)?
What animals make good pets?
What animals make bad pets?
FEEDBACK
I can read and understand a blog about animals.
動物のブログを読んで理解できるようになる。
LESSON GOAL ACHIEVEMENT
4


Very Good

Could complete the task with ease

3


Good

Could complete the task with some clarifications

2


Fair

Could complete the task with additional instructions

1


Poor

Could somehow complete the task with difficulty
PERSONALIZED FEEDBACK
RANGE 表現の幅
語彙をどの程度使えるか
ACCURACY 正確さ
文法が正しく使えているかどうか
FLUENCY 流暢さ
円滑に喋ることができるかどうか